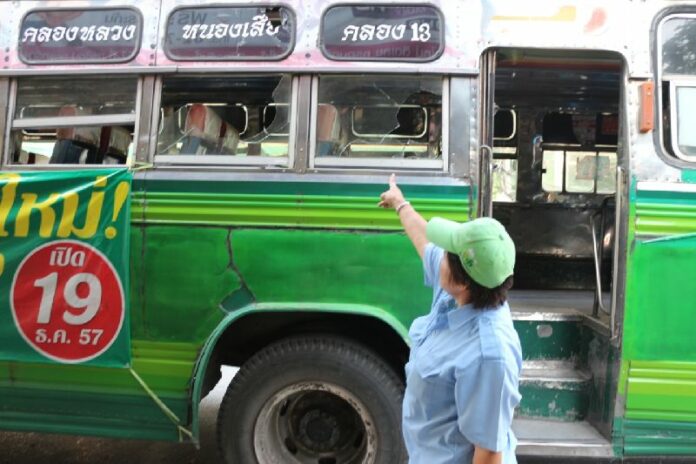 PATHUM THANI — Passengers riding a public bus in a Bangkok suburb were forced to evacuate early this morning when nearly a dozen technical students reportedly attacked the vehicle because it was carrying students from a rival school.
Amnuay Kotama, a 51-year-old driver of the Rangsit – Nong Suea bus, said the incident occurred after he drove past "at least 10 students" on Rangsit – Pathum Thani Road at around 1 am today.
According to Amnuay, several students shouted that they saw two students from a rival technical college riding on the bus, after which they began hurling stones and charging at the vehicle.
The driver was forced to stop and evacuate the twenty passengers who were on the bus at the time.
"Fortunately, no one was injured," Amnuay said, though three of the bus's windows were broken by the rocks.
Police later set up checkpoints in the area and arrested two technical students who allegedly participated in the attack. Both students are 16 and currently enrolled at Don Muang Technical College in northern Bangkok, police say.
Police also found two knives on the students.
"The other perpetrators escaped the scene, but police officers will find them for prosecution," said Pol.Cpt. Panya Lekdee, an officer at Pratunam Chulalongkorn Police Station. "As for these two suspects, they will face severe prosecution. We will inform their teachers and guardians about their action."
Gang violence is common between rival technical colleges in Thailand, occasionally resulting in fatalities.