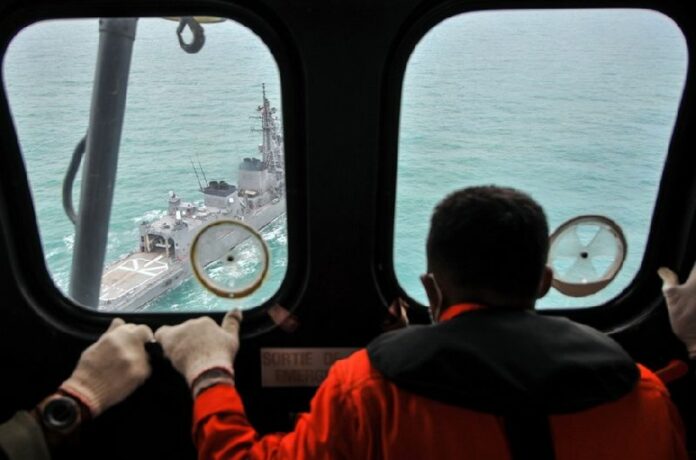 By Pathoni Ahmad
JAKARTA (DPA) — Searchers Wednesday found the tail of an AirAsia plane that crashed into the Java Sea with 162 people on board 10 days ago, an Indonesian official said.
"I can confirm that we have found the tail of the plane," search chief Bambang Sulistyo said.

An handout picture released by the Indonesian Search And Rescue Agency (BASARNAS) on 07 January 2014 shows a part of the crashed AirAsia Flight QZ 8501 off Pangkalan Bun, Central Borneo, Indonesia.
The discovery raises hopes for investigators to recover the aircraft's cockpit voice and flight data recorders, known as the black boxes, which are located in the aircraft's tail section.
The recorders help investigators to determine the chain of events leading up to an accident.
"I am led to believe the tail section has been found," AirAsia chief executive Tony Fernandes said in a post on Twitter. "If [it is the] right part of tail section, then the black box should be there."
Bambang said another body was found, bringing the confirmed death toll to 40.
Divers frustrated by zero visibility and strong currents were still aiming to reach objects thought to be part of the plane's fuselage, and thought to contain many of the victims' bodies.
"The strong currents are making the search difficult, but we are making all-out efforts," search operations coordinator Tatang Zaenudin said.
AirAsia flight QZ8501 crashed into the Java Sea on December 28 on its way from Surabaya in Indonesia to Singapore, after requesting permission to climb to try to avoid bad weather.
Indonesia's Transport Ministry said Wednesday it would stop budget airlines from selling seats at rock-bottom prices, in an effort to reemphasize aviation safety.
The lowest ticket prices for Indonesia-based budget airlines would be set at 40 per cent of the highest-cost fare, Transport Ministry spokesman Julius Barata said.
"We want to prevent a price war so that airlines don't compromise on safety," he said. "We want to protect the public."
The cause of the crash is still unknown, with no firm evidence that flight safety checks were involved.
Herry Bakti Gumay, a former Indonesian civil aviation chief, said that safety standards at low-cost airlines were no different from those at full-service carriers.
"Safety is the basis for all airlines," he said.
The Transport Ministry has already suspended seven airport and air traffic control officials as part of an investigation into flight schedule violations by AirAsia, and possibly by other airlines.
The ministry said AirAsia had approval to use the route on Mondays, Tuesdays, Thursdays and Saturdays, but not on Sundays – the day the plane crashed.