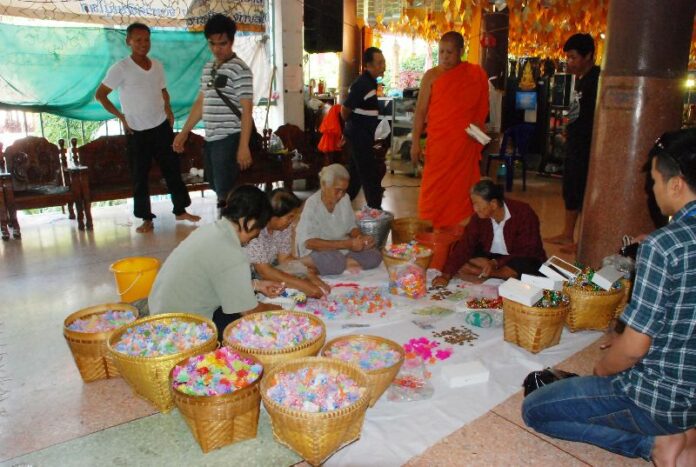 PITSANULOK — Soldiers have been dispatched to maintain order at a temple in Pitsanulok province where monks have promised to give away five free iPhones to temple-goers tomorrow.
The giveaway is a part of a tradition that typically involves monks throwing coins at crowds of temple-goers following major religious ceremonies.
Yet while most temples distribute coins and other humble gifts, Wat Ratchaburana in Mueang district will be giving away banknotes worth 20, 50, 100, 500, and 1,000 baht, its abbot says.
The temple will also give away five free iPhone 6 Plus devices, said the abbot, Phra Kru Sitthitham Wipat.
He explained that the winning raffle tickets for the iPhones will be mixed in with the cash prizes and thrown indiscriminately into the crowds.
"We will throw the money in four different spots throughout the temple, to prevent the crowd from becoming too dense," Phra Kru Sitthitham said. "We have already requested police, soldiers, and rescue workers to assist us in the event, to deter any criminals that may blend in with the crowd."
The giveaway is scheduled to take place after a ceremony marking the construction of a new Buddha statue at the temple on 9 January.
The iPhones were donated to Wat Ratchaburana Temple by some "Thais who are living in Germany," said Weerayuth Potassa, a staff at the temple.
Over 100 police officers and soldiers will be deployed to oversee security at the temple during the iPhone draw tomorrow, said Pol.Col. Damrong Muen-artyim, an officer at Mueang Pitsanulok Police Station.
"We are afraid that a fight may break out between the people when they struggle to collect the money," Pol.Col. Damrong said. "There may also be criminals who intend to commit crimes during the ceremony."
A group of soldiers from a local military base were already stationed at the temple by today's afternoon.