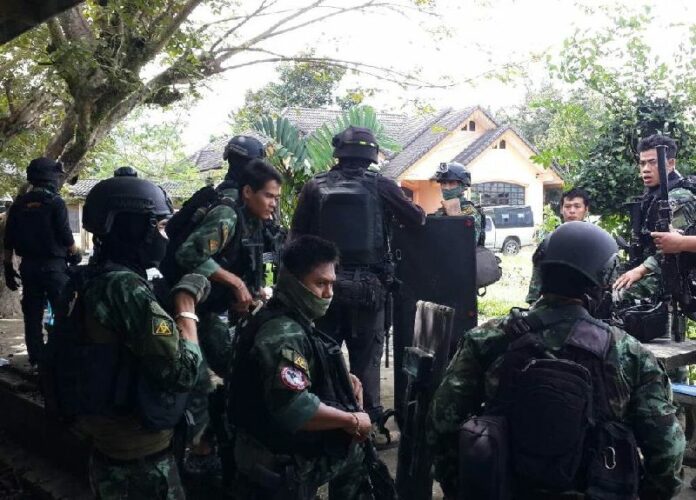 PATTANI — Three suspected insurgents were killed in a heated gunfight with security officers at a religious school in Pattani province today.
The gunfight broke out this morning after army rangers attempted to apprehend five suspects on terror charges who were residing at a madras in Mayo district, army officers told reporters.
However, the five men fired their weapons at the soldiers, forcing the officers to shoot back at the school building, the army says.
(Video of the clashes filmed by TNN News)
"We fired ten rounds of tear gas into the building to flush the perpetrators out, but it failed," Pol.Col. Kong-at Suwannakham told Manager ASTV. "They kept firing at us constantly."
The firefight continued for several hours, until soldiers overran the compound at around 2.30 pm. Security officers told reporters three militants died in the gunfight, and two were arrested.
During a lull in the fighting soldiers also reportedly evacuated residents from the surrounding area and invited religious leaders to negotiate with the suspects, but the talks broke down.
One of the deceased was wanted for his role in the murder of four army officers in 2012, according to security officers. Soldiers also reportedly found one M-16 rifle, one AK-47 rifle, and three pistols at the crime scene.
It is unclear what the suspects were doing in the religious school prior to the clash.
At least 6,200 people have died in the secessionist violence that has plagued the southern border provinces of Pattani, Yala, and Narathiwat since 2004, rights groups say. The violence also occasionally spills into some districts of Songkhla province.
The bloody campaign has been waged by shadowy militant groups seeking to revive the independent sultanate of Pattani that was incorporated into modern Thailand in the early 20th century.
In contrast to the rest of country, where the vast majority of Thais are Buddhist, Thailand's 'Deep South' is dominated by Muslims who speak a Malaysian dialect and often do not consider themselves Thai.
Over 60,000 troops and armed volunteers are deployed in the southern border provinces to combat the insurgency.
However, security officers have been often accused of human rights abuses and using excessive violence towards civilians in the region.