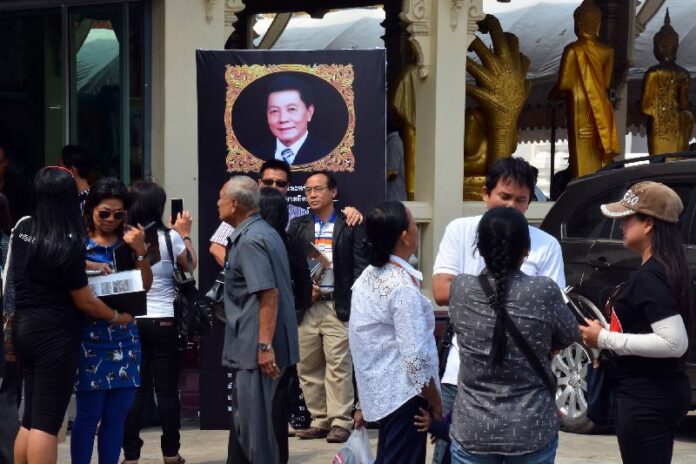 BANGKOK — Mourners wearing red shirts were prohibited by police from attending yesterday's memorial service for Apiwan Wiriyachai, a popular Redshirt leader who passed away in exile 100 days ago.
Officers manned the entrance of Wat Bang Phai temple in Nonthaburi province yesterday to enforce the ban and offer free white T-shirts to anyone who arrived in red, the color that has come to symbolize allegiance to Thailand's Redshirt movement.
According to police, the measure was an effort to ensure that no "political symbols" would appear at the service.
Apiwan, a former Pheu Thai MP and Deputy House Speaker, died of lung cancer while he was living in political exile in the Philippines on 7 October. The politician is believed to have fled Thailand shortly after the military staged a coup against the Redshirt-allied government on 22 May, 2014.
His cremation ceremony in October was attended by thousands of supporters. Although the military junta warned against injecting politics into the funeral, many Redshirts raised the anti-coup "three-finger salute" in silence.
The funeral marked the first and only time that Redshirts have publicly gathered on masse since the coup, as the junta has retained martial law and a ban on all political and gatherings eight months after the takeover.
No political symbols were displayed at yesterday's memorial service, which concluded at around 10.40 am.
Jatupon Prompan, a core leader of the Redshirt's umbrella organization, the United Front of Democracy Against Dictatorship (UDD), described Apiwan as a great man who chose to fight for democracy instead of pursuing other careers.
"If he had chosen the military path, he would have been a General by now," Jatupon said of Apiwan, who held the rank of Colonel for his military service in the Royal Thai Army.
"If he had saved himself by refusing to fight alongside the Redshirts on the days we faced crackdowns and arrests, Apiwan would have been the House Speaker," Jatupon continued. "Apiwan chose the path of struggle alongside the people, instead of choosing a path of glory and praise."
He added that the UDD is currently planning to construct a meeting hall dedicated to Apiwan.
When a reporter asked about the UDD's plans for political movement under the military regime, Jatupon replied that the Redshirt leadership has no plans to oppose the junta or the coup.
"If we did, when there's a failure [in the national administration], they will blame it on us," Jatupon said. "So we have to let Thai society see whether they will really succeed in their promise. It's their responsibility. We will let them stay and do what they promised."