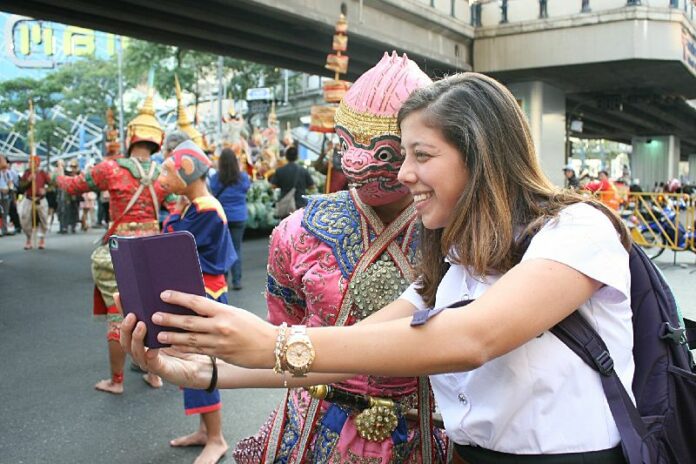 BANGKOK — Standing a block away from the site of a bloody military crackdown on Redshirt protesters in 2010, junta chairman and Prime Minister Prayuth Chan-ocha kicked off last night's "Thainess" parade in Bangkok with a vow to bring smiles back to the capital city.
"The government is doing everything to make the people happy,"Gen. Prayuth said. "As for this area, in the past there were problems with vendors and political rallies, but today, I will make it a place of smiles."

The TAT's "Discover Thainess" parade in Bangkok, 14 Jan 2015.
Gen. Prayuth, whose speech marked the launch of an extravagant cultural parade organized by the Tourism Authority of Thailand (TAT), was referring to the Redshirt rallies in 2010 that took place on Ratchaprasong Intersection, a block away from where he was speaking last night.
The protests lasted from April to May 2010 and were eventually squashed by series of military operations that Gen. Prayuth helped lead. More than 90 people, mostly civilians, were killed in the unrest.
However, Gen. Prayuth insisted that those violent episodes are a thing of the past.
"When I was visiting foreign countries, foreigners asked me if Thailand was stable and peaceful yet, whether the protests were over," the junta chairman said. "I told them with pride: they are all over. It's all peaceful now."
Shortly after seizing power, Gen. Prayuth imposed martial law and banned all political protests and gatherings. Violators have been sent to face trial in military courts.
"Whoever causes chaos to Thailand or takes peace and order away, they should not be recognized as Thais, because Thais don't destroy each other," the junta chairman said in his speech last night.
Gen. Prayuth seized power from a Redshirt-allied government last May on the pretext of preventing confrontations between rival anti- and pro-government protesters in Bangkok from spiraling out of control. A parliament whose members he handpicked later appointed him as Prime Minister.
The extended political protests and military coup in 2014 dealt a huge blow to Thailand's tourism sector, a vital source of income for the Kingdom.
In an effort to revive the industry, the TAT launched its "2015 Discover Thainess" campaign, which Thailand's tourism minister says "will offer the chance for foreigners to appreciate the essence of 'Thainess' through the Thai way of life, Thai culture and Thai experiences."
In his speech last night, Gen. Prayuth touted the smiles of Thai people as the country's biggest tourist draw.
"The charm of Thai people is that they look lovely even when they do nothing, because they have smiles. Don't look angry all the time like me," teased Gen. Prayuth, who is known for his short temper with reporters.
"Foreigners want to come to our country because there are many things here, like wellness spas, forests, mountains, seas," the general said. "But the most important thing is the loveliness of Thai people. The charm of Thais is their smiles."