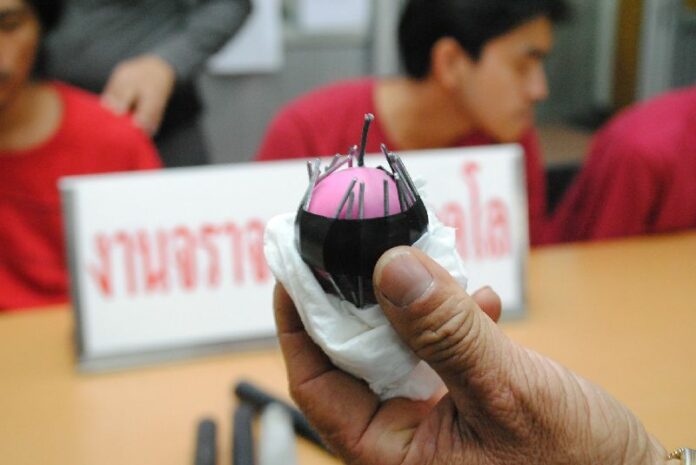 BANGKOK — Four students from technical colleges have been arrested for allegedly throwing homemade bombs at a public bus in Bangkok yesterday, injuring three passengers.
Police said the students, from Siam Technology College in Bangkok's Tha Phra district, threw homemade explosives at Bus 147 in front a Tha Phra shopping mall yesterday afternoon because they spotted students from a rival school in the vehicle.
Three passengers were injured by the small blasts, police say. One was sent to the hospital.
The students quickly dispersed after the incident, but police officers in the area managed to detain four of them, said Pol.Col. Kampanart Arunkiriroj, superintendent of Bukkhalo Police Station.
"We also confiscated the knives and ping pong bombs that the four suspects were trying to hide at the parking lot of the shopping mall," Pol.Col. Kampanart said.
Two of the suspects are 20 years old, while the others are 18 and 19. They have been charged with possession of explosives without permits.
"We have already informed their teachers and legal guardians about their actions," Pol.Col. Kampanart told reporters.
Gang violence between students at rival technical college students is common in Bangkok.
Last week, a bus driver was forced to evacuate 20 passengers after a group of technical students threw rocks at the vehicle because it was carrying students from a rival school.