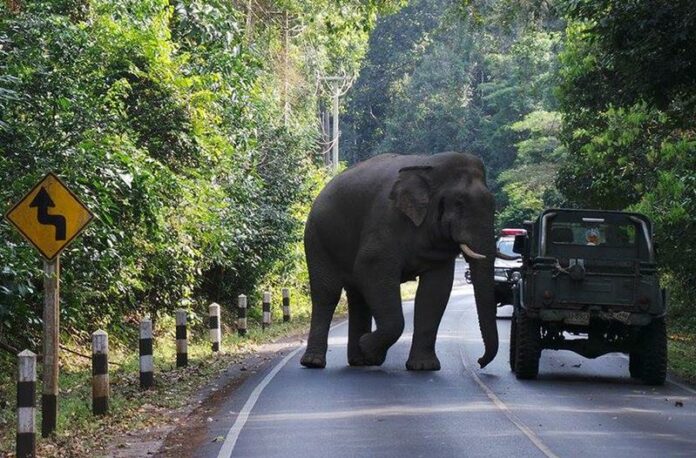 By Cod Satrusayang
BANGKOK (DPA) – A charging two-ton pachyderm would frighten almost anyone, and drivers in central Thailand this week were no exception.
But panicking is the worst thing you can do, according to Kanchit Srinapwan, head of Thailand's Khao Yai National Park, home to at least 300 wild elephants.
"The first thing you have to do is to keep calm," Kanchit said.
Over the past week images and videos from Khao Yai of unruly young male elephants assaulting vehicles in four separate incidents have gone viral on the internet.
One showed an elephant displaying amorous affection for a car.
For Kanchit and his staff, dealing with unruly elephants is an annual challenge. Each year there are reports of elephants in musth misbehaving.
"The cold season coincides with the mating season," Kanchit said. "Young bull elephants are cast out from their herd and many of them become more aggressive."
Problems arise when tourists don't follow park protocols and either stop their cars to take photos or honk their horns at the elephants, causing them to become aggressive, Kanchit said.
"There are instances where aggravated elephants have killed tourists," said Edwin Wiek, head of the Wildlife Friends Foundation of Thailand.
The main problem in most elephant-related incidents in the country's national parks is a lack of education and enforcement, Wiek said.
Tourists passing through national parks are rarely given a proper briefing on how to deal with wild animals.
Low funding also means that national parks find it difficult to enforce laws that are meant to keep both animals and visitors safe.
"There is just no budget to maintain speed limits and people have little respect for the laws," said Wiek.
Four months before the latest incidents at Khao Yai, an elephant was killed in Pala-u National Park by a speeding motorist. The incident has prompted a national debate on how to protect the country's elephants.
It is a sensitive subject for Thailand, where the elephant is the most revered of animals, and has occupied a place at the centre of society for centuries.
The monarchy treasured the national animal as a status symbol and kept meticulous records of the number each monarch possessed.
Elephants have also been used for menial labour, in ceremonies and war. Prime Minister Prayuth Chan-ocha has pressed his cabinet to do more to safeguard the species.
But for activists like Wiek, the solution to the problem is clear.
"It would be easier to stop people taking short-cuts through the national parks," Wiek said. "It is only 25-30 kilometres more to go around Khao Yai and we would better protect the wildlife."