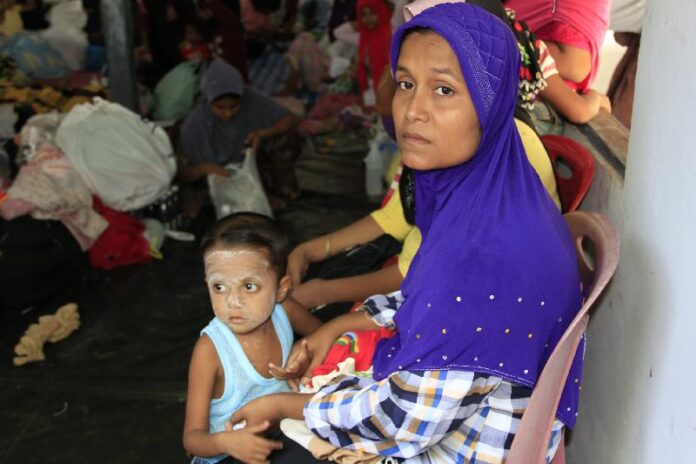 NAKHON SI THAMMARAT — Thai police say they are treating the 95 Rohingya refugees who were intercepted in southern Thailand this week as victims of human trafficking, not suspects of illegal immigration.
"All of the Rohingya have a status as victims of human trafficking rings – not suspects on charges of illegal entry," said Pol.Col. Chian Chunoo, an officer at Hua Sai Police Station.
Nearly 100 Rohingya, a persecuted Muslim minority from western Myanmar, were found crammed into the back of several trucks in Hua Sai district of Nakhon Si Thammarat province on 11 January. Two Thai drivers were arrested and charged with human trafficking, while three others reportedly fled the scene before the police could detain them.
Yesterday, a third suspect was arrested in connection with the operation. Sunand Saengthong, 53, is currently being held at a prison in the province, Pol.Col. Chian said.
"We have to place him in prison for now because it's a serious offense," Pol.Col. Chian said.
If found guilty, the suspects could face up to 15 years in prison.
Thailand is a major transit hub for the thousands of Rohingya who flee persecution and repression in Burma every year. However, many of the refugees fail to make it to their final destination, often Muslim-friendly countries like Malaysia, and become victims of trafficking and other forms of exploitation instead.
In previous cases, Thai security officers have come under fire from human rights groups for classifying intercepted Rohingya refugees as illegal immigrants and eventually deporting them back to Myanmar.
Three of the 98 Rohingya have died since they were found in Hua Sai. One woman was found crushed to death at the scene, and two men died in police custody, one from dehydration and another from an infection.
The rest of the refugees, most of whom are women and children, are currently staying at a makeshift shelter in Hua Sai district.
Although Pol.Col. Chian did not comment on the fate of the 95 Rohingya, he said the Ministry of Social Development and Human Security is coordinating an effort to provide them with food, water, and other necessities.
However, police have pleaded for emergency food supplies from mosques in Hua Sai district as the food in the shelter is running low rapidly. Police say several fights already broke out among the refugees due to scarcity of food and clothes.
In 2014, the United States downgraded Thailand to the lowest rank in its annual report on human trafficking, noting that Thai authorities have failed to provide adequate protection to the Rohingya, despite repeated recommendations.
The report also alleged that some members of the Thai police and military have participated in the trafficking of the Rohingya refugees.