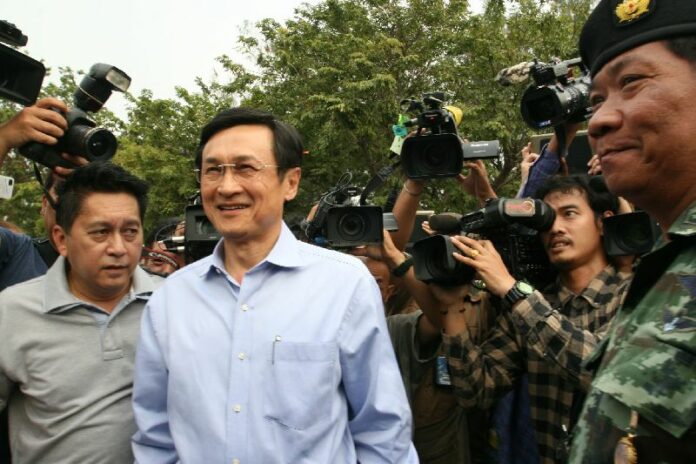 BANGKOK — Thailand's ruling military junta has summoned a new round of prominent Pheu Thai politicians for "attitude readjustment" after they publicly criticized the political situation in Thailand.
In the last 24 hours, four Cabinet ministers from the administration of former Prime Minister Yingluck Shinawatra have been ordered to report to the military.
The four men are Surapong Tovichakchaikul, former Minister of Foreign Affairs; Nattawut Saikua, former Deputy Minister of Agriculture and Cooperatives; Chaturon Chaisaeng, former Minister of Education; and Pichai Naripthaphan, former Minister of Energy.

Chaturon Chaisaeng reporting to the 1st Region Army headquarters in Bangkok, 29 Jan 2015.
Three of the four former ministers have publicly criticized last week's impeachment of former PM Yingluck by the junta-appointed parliament, either in media interviews or Facebook posts, while Pichai reportedly criticized the military government's energy policy.
Chaturon and Surapong surrendered to the 1st Region Army headquarters in Bangkok today, while Nattawut and Pichai have been ordered to report to the military tomorrow.
In addition to condemning the impeachment ruling, Chaturon, one of the most vocal Pheu Thai politicians since the coup, recently wrote on Facebook that the party's silence tactic is no longer working.
"Staying silent and allowing those with power to do what they please will not guarantee that the country will move forward," he wrote on 19 January. "In fact, grave troubles are waiting for us in the future."

Surapong Tovichakchaikul, former Minister of Foreign Affairs, was released after talks with the military on 29 Jan 2015.The junta's intensified crackdown on public criticism follows last week's ruling to impeach Yingluck and ban her from politics for five years, a move that analysts predicted would sow discontent among her supporters. Two days ago, Yingluck's legal advisor was similarly "invited" for talks with the military after he condemned the impeachment ruling.
More than 300 politicians, activists, and academics perceived to be sympathetic to the former government were publicly summoned and briefly detained in military camps in the weeks following the 22 May 2014 coup. The wave of summons orders winded down in July.
Chaturon is currently facing trial in martial court for his refusal to report for a summons order issued by the junta shortly after the takeover.
Unlike last year's summons, the orders given to the four politicians in recent days were not written into official documents or publicly announced on television. Junta chairman and Prime Minister Prayuth Chan-ocha explained today that formal notices are no longer necessary.
"No need. The NCPO directly contacts and invites these people," Gen. Prayuth said, using an acronym for the junta's official name, the National Council for Peace and Order. "I don't want it to become big news. When we invite them, we use telephones to call them for talks."
He added that the politicians will not be detained overnight. "If they stay overnight, it will be a waste of the food budget," he said. "I won't let them stay."
When a reporter asked whether anyone who publicly comments on the political situation in Thailand will be summoned for "attitude readjustment," Gen. Prayuth shot back, "Is it the right thing to say those things? Is it appropriate to say them in this time? That's all. You keep making this a big issue with your questions."
When the reporter pressed Gen. Prayuth to answer, the junta chairman launched into an angry tirade.
"You will be summoned too, if you keep asking many questions like this," he said. "You ask unconstructive questions. I want to ask you, is it a right thing to do, challenging my full power? Even though I have such full power, these people still challenge it like this. If there's no martial law, what's going to happen? You all know the answer. Do you want it to happen?"
He continued, "I know that the media wants it to happen, so that they can sell news … I am [the head of] the government. I have full power. Is it the right thing to challenge it like this? I have relaxed my power too much already these days."
Responding to a reporter who noted that the NCPO seems to be intensifying its crackdown on criticism, Gen. Prayuth shouted, "So what? So what? In the past, you said I was incompetent. Now that I am intensifying, you are angry. What the hell do you want me to do?"
Swiftly changing the topic, the junta chairman also scolded the media for publishing a photo of him inadvertently pointing his middle finger, which appeared in Post Today.
"I am not mad on power. You don't understand it. You keep picking on me," Gen. Prayuth said. "Yesterday, for instance. How can you photograph me like that? I was pointing my finger. You bastard. You chose to photograph me pointing my finger. This is what they call a lowly mind."