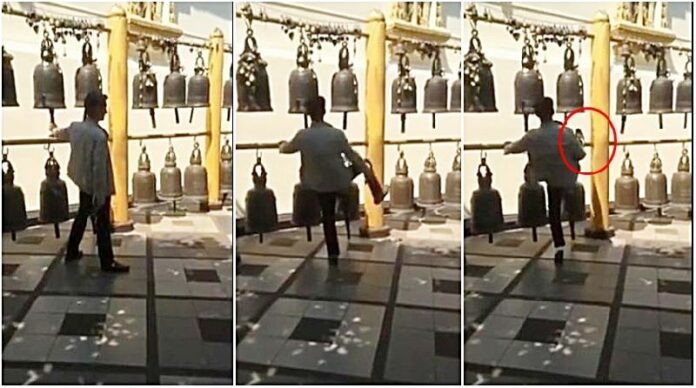 CHIANG MAI — An official from Chiang Mai's Doi Suthep temple has asked tour companies to educate their clients about proper temple etiquette after a video of a suspected Chinese tourist kicking one of the temple's bells went viral on social media.
The video shows an Asian tourist kicking a fortune bell at Doi Suthep, a popular destination for Thai Buddhists and foreign tourists in Chiang Mai. The video's caption claims that the tourist is Chinese.
Chuan Patwan, an administrator at Doi Suthep Temple, said he could not comment on whether the tourist was Chinese, as he did not witness the incident firsthand. However, he said that many Chinese tourists visited the temple over the weekend.
"It will take some time to say whether the tourist is actually Chinese," Chuan said. "But judging from his style, he was kicking his feet with so much agility, it was like kung fu."
The official added that the temple has asked all tour companies and guide associations in Chiang Mai to teach their customers about proper etiquette when visiting temples, historic sites, and other important destinations.
"So it won't create a negative image for Chinese tourists," Chuan told Khaosod.
The controversy came during a mass influx of Chinese tourists to Thailand for the "Golden Week" of the Chinese New Year. Tourism authorities estimate that over 90,000 Chinese nationals will visit the city of Chiang Mai alone during the holiday.
Although it is estimated that the Chinese tourists will generate millions of baht in revenue for the Thai tourism industry, which suffered from the political unrest that spanned much of 2014, many Thais have complained that Chinese tourists are "poorly behaved" and insensitive to local customs.
On 9 February, Chalermchai Kositpipat, the designer and administrator of the famous Rong Khun Temple in Chiang Rai province, briefly banned Chinese tourists from visiting the temple because of their "improper" use of the site's toilets. He lifted the ban by the day's end, but said he remained wary of Chinese tourists.
Wisut Buachum, the director of Tourism Authority of Thailand (TAT) for Chiang Mai region, said he has been informed about the incident at Doi Suthep Temple.
"Such action is inappropriate, regardless of the nationality of the tourists," Wisut said, "The TAT is collecting problems and issues about tourists' behavior that happen frequently, in order to discuss them with relevant agencies. However, I think it's only the minority of Chinese tourists. The majority fully cooperate, and the guides give them good advice.