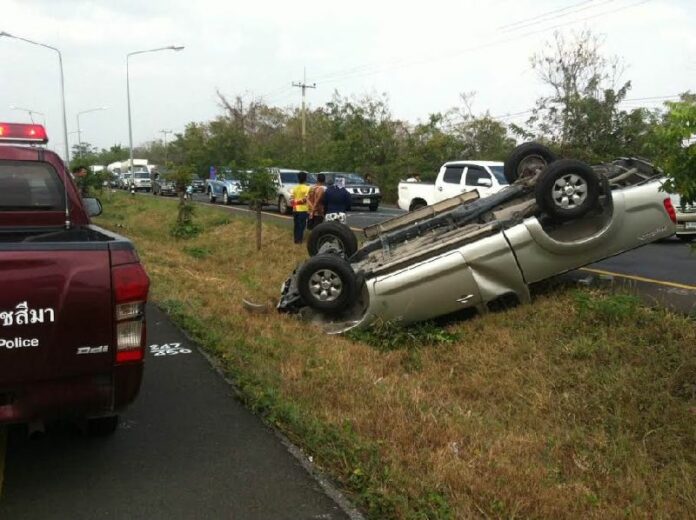 NAKHON RATCHASIMA — A Chilean bicyclist on a mission to cycle around the world was hit and killed by a pick-up truck in northeastern Thailand yesterday.
The 47-year-old victim, identifed by the Latin press as Juan Francisco Villa Honorato, was cycling near the 247 km mark of Mittraphap Road with his wife and 2-year-old son when he was hit and killed by pick-up truck that skid off the road and flipped on its side.
Police say Juan's
wife and child are in stable condition.
Pichet Dechakamphoo, the director of Ministry of Tourism and Sports in Nakhon Ratchasima province, said the ministry will donate 400,000 baht to Juan's family to compensate for his death and help his wife and son cover any medical expenses.
Juan had been cycling across the globe for the past five years in an effort to secure the world record of biking over 250,000 km in five continents. He reportedly aimed to complete the journey in November of this year.
Several hours prior to his death, highway police in Khon Kaen province hosted an event to celebrate Juan while he was biking through the province. An officer who was at the event said police and local residents gave him food and drinks, and wished him all the best for the rest of his journey.
Tiwarat Chaipidet, the driver of the pick-up truck, has been arrested and charged with reckless driving that led to death and injury of others.
According to an officer at Bua Lai Police Station, Tiwarat said he accidentally hit the cyclists because did not see them on the road.
Juan's wife, Bao Ling, has yet to give any formal testimony to police, officers said. However, she reportedly told the police she intends to hold a funeral for Villa at Dharma Utthayan forest monastery in Khon Kaen province, because he was impressed with its serenity when he visited earlier this month.
The Transportation Research Institute ranks Thailand as the second most dangerous place to drive in the world, with a rate of 44 deaths per 100,000 people, a number nearly twice global average.
For comments, or corrections to this article please contact: [email protected]
You can also find Khaosod English on Twitter and Facebook
http://twitter.com/KhaosodEnglish
http://www.facebook.com/KhaosodEnglish