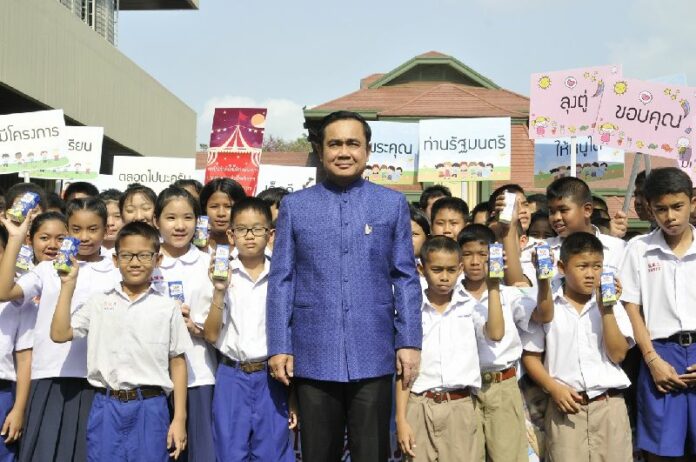 BANGKOK — In an effort to assure the public that he will not hold onto power after the next election, junta chairman and Prime Minister Prayuth Chan-ocha has instructed the drafters of the new charter to ban him from serving in the senate.
In a meeting between the junta and its appointed governing bodies yesterday, Gen. Prayuth said he was troubled by accusations that he wants to "perpetuate" his power into the new civilian government.
"It's not true," Gen. Prayuth said, "I want everyone to complete their duties quickly, so that we can erase this allegation about perpetuating our power."
The general then suggested that the new constitution specifically ban him from becoming a senator in the government that will take charge after the next election.
"In the provision about the senate, write my name in there and say I won't serve in the senate," Gen. Prayuth said.
According to the draft of the new charter, the senate will be a fully-appointed body, instead of the half-appointed, half-elected body it was under the 2007 constitution. Half of the senators will chosen by a council of "experts," while the others will be selected from a pool of former Prime Ministers, commanders of the armed forces, and other high-ranking bureaucrats.
Accusations that the junta is seeking to retain its grip after the next election mounted after a proposal to ban its members from political office for two years was swiftly shot down by top officials in the military government. Under the interim charter, only members of the Constitutional Drafting Committee will be subjected to the two year ban.
Although Gen. Prayuth appears willing to forgo a career in the senate, he did not ask to be specifically barred from other offices, such as Prime Minister – a post he currently holds in addition to junta chairman.
Among the charter draft's most controversial clauses is a provision that allows an unelected "outsider" Prime Minsiter to take the helm in the event of a political crisis. In previous constitutions, the Prime Minister has always been required to be an elected Member of Parliament. It remains unclear how the new charter will define a "political crisis" and how the unelected PM will be chosen.
The CDC was appointed to draft a constitution after the junta dissolved the 2007 charter followng the May 2014 coup. The charter, which will be Thailand's 20th, is expected to be finalized by September.
Politicians and pro-democracy activists in have criticized the charter draft, calling it a major setback for democracy in Thailand.
Speaking to the officials in yesterday's meeting, Gen. Prayuth also urged the CDC to "explain in details" about the draft of the constitution in order to prevent any further "misunderstanding" among the public.