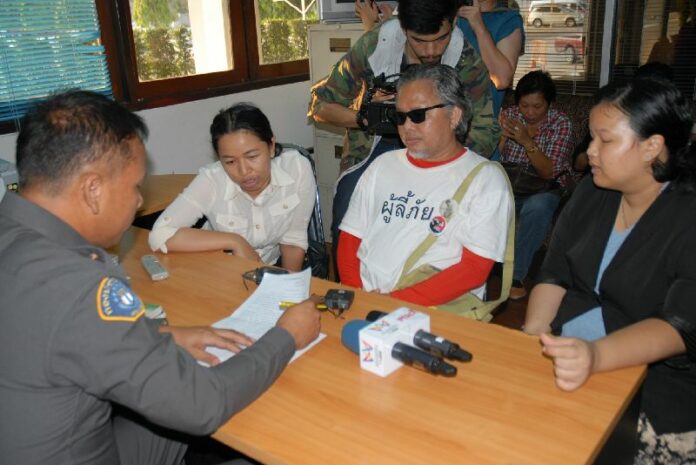 BANGKOK – An anti-coup march that was supposed to last three days ended an hour after it began this morning when police intervened and detained one of the organizers.
The walk, organized by the anti-coup group Resistant Citizens, was scheduled to start on 14 March in Bangbuathong district and end on 16 March at Pathumwan Police Station.
The group invited the public to join the 50-km walk and show solidarity with four activists who are due to report to the police station on 16 March for violating the the junta's ban on protests by staging a pro-democracy rally last month.
At 8:30 this morning, police arrested one of those activists, Pansak Srithep, who had started walking in Bangbuathong district at around 7 am. He said he planned to stop at the pedestrian bridge in front of Thai Rath newspaper headquarters, where pro-democracy taxi driver Nuamthong Praiwan hanged himself in October 2006 to protest the 2006 military coup.
Pansak was taken by five police officers to Pathumwan Police Station and interrogated by Pol.Lt.Gen. Amnuay Nimmano, commander of First Region Police.
Pol.Lt.Gen. Amnuay said Pansak's walk was a political activity that violated the junta's ban on protests.
"It has dishonest intention and a political implication, because he was arranging the walk beforehand, and there was a plan to hold activities near the spot where Nuamthong Praiwan died," Amnuay said. "Therefore it's a political activity that has not been approved by the NCPO. It could cause chaos in the country."
Police say they have not pressed any charges against Pansak, who was released later in the evening.
Speaking to reporters afterward, Pansak said he did not understand why police had to detain him because he did not break any laws.
"The officers at Pathumwan police station recognized me. They asked me why I came here today, because they didn't have any appointment with me today," said Pansak, who is the father of a 17-year-old student shot dead during the military crackdown on Redshirt protesters in May 2010.
Around 10 student activists later arrived at the police station to show support for Pansak.
After a negotiation with the police, Pansak's group agreed to cancel the activity at Thai Rath headquarters, and only read a statement to reporters at Pathumwan Police Station in the evening instead.
Pansak went to the Crime Suppression Division at around 5 pm today to file charges of illegal detention against the police officers who detained him today.
For comments, or corrections to this article please contact: [email protected]