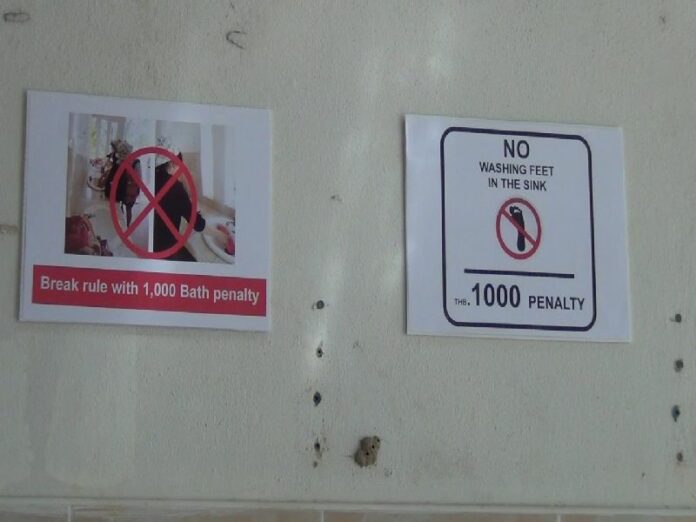 KRABI — National Park officials in Krabi province have fined a Chinese tourist who washed her feet in a restroom sink, an act deemed highly offensive in Thai culture.
Chaiyathat Boonphoopantanti, director of the Pi Pi Islands National Park, said the tourist was fined 1,000 baht in accordance with National Park regulations.
The incident followed a spike in complaints after photos of Chinese tourists washing their feet in the park's restroom sinks circulated on social media. The photos were widely condemned by Thais, who consider it offensive to put 'dirty' feet near a space where people wash their faces.
Chaiyathat told Khaosod today that officials held a meeting with tour guides and asked them to discuss Thai cultural norms surrounding feet with their Chinese clients. The tour guides then suggested officials post visible signs in restrooms instructing tourists not to wash their feet in the basins, Chaiyathat said.
The signs were posted on the wall directly above the sinks.
"But less than an hour after officials put up the sign, a female Chinese tourist entered the restroom, lifted up her foot, and washed it in the basin, without any regard for the sign at all," the park director said. "So the officials photographed the incident and contacted the tour guide of the tour group."
Chaiyathat added that officials will remain vigilant to prevent any further incidents of feet washing.
Thailand has seen a sharp rise in the number of Chinese tourists in recent years. In 2014, over 4.5 million Chinese tourists visited Thailand. Approximately 600,000 Chinese tourists arrived during the "Golden Week" of Chinese New Year in February alone, generating more than 6 billion baht in tourism revenues, according to data compiled by Tourism Authority of Thailand.
However, some Thais have complained that Chinese visitors are insensitive to local customs.
Last month, a video of a suspected Chinese tourist kicking a sacred bell at a Buddhist temple in Chiang Mai province drew criticism on social media. Another temple in Chiang Rai province also announced that it would construct a separate restroom solely for Chinese tourists because some Chinese visitors made the existing toilet unusable.
For comments, or corrections to this article please contact: [email protected]