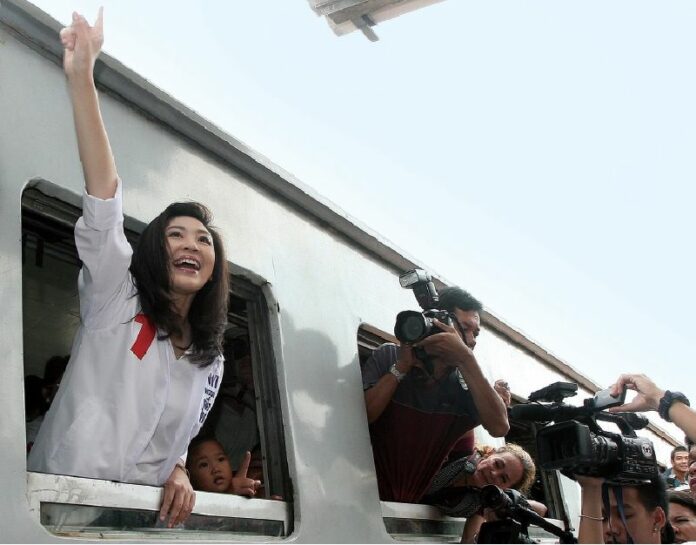 BANGKOK – The drafters of the new constitution have approved the first gender quota in Thai history, requiring one third of political party list candidates be women.
The measure was approved by 17 of the Constitution Drafting Committee's 35 members in a secret ballot yesterday. Fifteen voted against the proposal and two abstained.
The CDC was appointed by Thailand's ruling military junta to replace the constitution dissolved after the coup last May.

Yingluck Shinawatra (left) canvassed for votes in Bangkok on 30 June 2011. She was accompanied by the three children of her brother, former Prime Minister Thaksin Shinawatra.
"Political parties will have to nominate women in accordance with the constitution's requirement," CDC spokesperson Supattara Nakapiew said today. "They will have to arrange a quota for women in all of the six party lists in six regions, otherwise the party will not be able to send their candidates to elections."
The CDC also plans to make Thailand's party list system "open," which means that voters will be able to rank the candidates. In the past, party leaders determined the ranking. Under the German-style mixed-member proportional (MMP) system envisioned by the drafters, slightly under half of MPS will be elected through the party list. The rest will be chosen by voters to represent specific constituencies.
Last month, divergent views about incorporating a gender quota into the new charter led women's rights advocate Thicha na Nakhon's to resign from the drafting committee. Thicha had called for requiring one-third of all MPs and local councilors to be women.
The measure passed by the CDC yesterday is more moderate, as it only applies to candidates. The committee also voted against extending the quota to candidates running for local administrative positions, on the grounds that "there might not be enough women to run in local elections," Supatta said.
Thailand's top governmental bodies are consistently dominated by men. As a result, issues related to women's rights are rarely discussed in national political bodies.
The current interim legislature, whose members were handpicked by the all-male junta, has one of those lowest percentages of female representation in recent years. Only 12 out of its nearly-200 members are women, amounting to six percent. The rest are male military officers, policemen, businessmen, and former politicians and bureaucrats.
The percentage of female MPs in the previous elected parliament was 15.8 percent, also below the global average of 20 percent.
Although Yingluck Shinawatra was elected to be Thailand's first female Prime Minster in 2011, many critics attributed her rise to power to the enduring influence of her brother, Thaksin Shinawatra, a former Prime Minister lionized by the Redshirt movement. When Yingluck was running for the premiership with the Pheu Thai party, her party's slogan was "Thaksin thinks, Pheu Thai does."
Speaking at today's press conference, CDC member Thawilwadee Bureekul thanked women's rights groups who campaigned for the gender quota.
"It is an important page in history, that this constitution will increase roles of women," said Thawilwadee, "National budget arrangement will also have to consider gender equality."
Wirat Kalyasiri, a legal advisor to the Democrat Party, welcomed the gender quota and pledged that his party will comply with the requirement in the next election.
"The Democrat Party will have more female figures, and it won't be a problem to find female candidates, because our party has many talented and capable women," Wirat said, "Such as Khunying Kalaya Sophonpanich, deputy chairperson of Democrat Party; Pusadee Tamthai, deputy Governor of Bangkok, or Ratchada Thanadirek, Bangkok MP."
He added, "In my opinion, there are even more women interested in politics than men. Just look at the rallies of PCAD [the People's Committee for Absolute Democracy With the King As Head of State]. Women are very interested in politics. Out in the field of anti-corruption campaigns, women were very serious and dedicated."
The CDC also made international headlines earlier this year for approving a clause that will explicitly prohibit any discrimination based on "gender" to cover those who do not identify as male or female.
The new charter – Thailand's 20th – is expected to be completed in September this year. The junta says an election will take place in early 2016, provided that the constitution has been finalized and the political climate is deemed stable.
Related coverage:
Women's Groups Divided in Push for Post-Coup Rights
Debate Over Women's Empowerment Behind Charter Drafter's Resignation