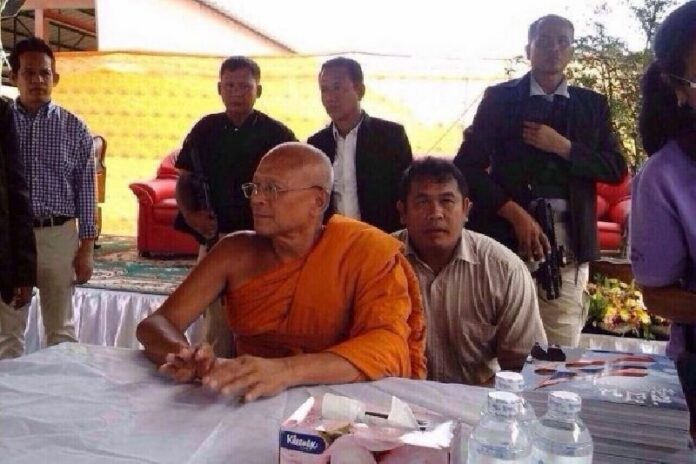 BANGKOK – The armed men seen standing next to conservative Thai activist-turned-monk Suthep Thaugsuban were not his personal guards, the monk's brother said today.
Thani Thaugsuban was referring to a widely-shared photo of Suthep seated in a temple, flanked by two black-clad men who appear to be holding a submachine gun and an assault rifle.

A widely-shared photo of Suthep Thaugsuban sitting in front of two armed men.
According to Thani, the men were not his personal guards, as many internet users had speculated, but rather local security officers in Pattani, a southern province where authorities are combatting a simmering Islamic insurgency.
"Local officials worked to prevent any incident, and they dispatched some officers to take care of Phra Suthep," Thani told Manager ASTV. "Phra Suthep was not personally involved in the matter."
The photo was shared by many Redshirt activists, including Sombat Boongam-anong, with many commentators questioning why Suthep was allowed to bring armed guards inside his temple.
Suthep resigned from his post as deputy chairman of Democrat Party to lead six months of street protests against the government of Prime Minister Yingluck Shinawatra starting in November 2013. The protests called for replacing Yingluck with an unelected "people's council" to implement national reforms. The protests culminated in the military coup on 22 May 2014 and Suthep entered monkhood shortly afterwards.
He is currently facing a possible impeachment trial for his role in authorizing the 2010 crackdown on Redshirt protesters that left over 90 people dead.