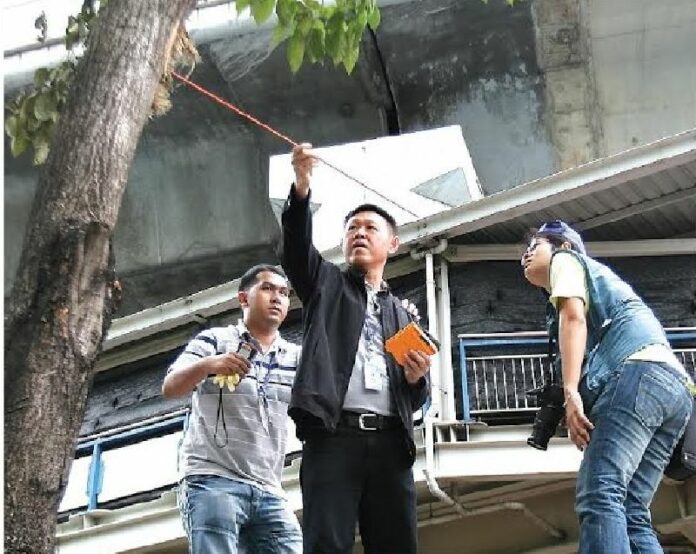 BANGKOK — Military representatives will assist with an investigation into the deaths that resulted from a military crackdown on Redshirt protesters in 2010, a senior official said.
Suwanna Suwanchuta, director of the Division of Special Investigation (DSI), said seven retired officers from Thailand's military court – formally known as the Staff Judge Advocate – will serve as "coordinators" between the DSI and the army in the inquest procedures.
"The DSI wants these investigators to coordinate with the military when it comes to interrogating soldiers because we have received complaints that soldiers had not been treated fairly," Suwanna said today.
More than 90 people, mostly civilians, died in clashes between security officers and Redshirt demonstrators between April and May 2010. Later in that year, the DSI began assisting with court inquests to determine the causes of the deaths. Then-PrimeMinister Abhisit Vejjajiva, who is facing possible impeachment for authorizing the crackdown, has blamed the violence on militants who were allied to the protesters.
Of the 27 inquests completed so far, judges have ruled that military gunfire was responsible for the deaths of 18 victims. The other nine cases were deemed inconclusive because of insufficient evidence.
Last month, Gen. Prayuth Chan-ocha ordered the DSI to fill any positions in their 2010 inquest teams that have been left vacant by retired or transferred officers.
Gen. Prayuth's order alarmed Redshirt activists who fear that the general may attempt to interfere with the inquiries, prompting top Redshirt leaders to meet with DSI officials today.
"The cases have seen very slow progress," said Jatuporn Prompan, chairman of the Redshirt umbrella organization, the United Front of Democracy Against Dictatorship (UDD). "The new committee will have many military men. I am afraid that it won't be transparent and fair."
He added, "I also want to know, about this new committee, are they going to restart or continue works from the older committee? And I want to know about the progress of the cases and direction of the investigators. For the cases that have been proven that their deaths were caused by security officers, how will the government proceed with it?"
DSI Director Suwanna did not answer Jatuporn's questions directly, but insisted that the addition of the seven retired military officers to the DSI teams will not affect the inquest results.
"We want to work transparently, and we want every side to have confidence in our works," she said. "I insist that we don't have any pre-concieved verdicts in these cases."
The next inquest verdict is scheduled for 30 April. The inquest will include the case of Hiroyuki Muramoto, a Japanese cameraman who was working for Reuters news agency and killed during clashes on 10 April 2010.