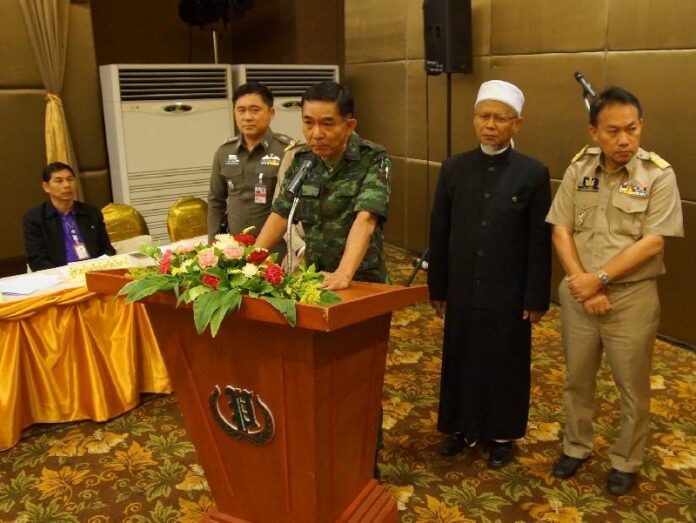 BANGKOK — An southern army commander has formally apologized for the deadly raid that a fact-finding panel says killed four young men who had no connection to the local Islamic insurgency.
The four men, in their early twenties and thirties, were shot dead by security officers during a raid in To Chud village in Pattani province on 25 March. The military said the operation was an attempt to arrest insurgents, and initially identified two of the deceased as members of a militant group operating in the region.
The military also told reporters that three assault rifles were found next to the deceased, and that security officers only started shooting after the suspects opened fire.
However, an independent committee ruled today that the four men were not related to the insurgency, or armed when the raid took place, citing forensic evidence and witnesses' testimonies.
The panel's members included local administrators, human rights officials, military officers, representatives from the Central Islamic Committee of Thailand, and officials from Fatoni University, where two of the victims were enrolled as students.
Lt.Gen. Prakarn Chollayuth, the army commander who oversees Pattani and its neighboring provinces, said he accepted the panel's findings and apologized to the families of the victims.
"Today, every side must join hands and overcome the crisis of what has happened at To Chud village, so that things will return to normalcy under the laws and human rights principles. I humbly accept the verdict that the committee read to the press today," Lt.Gen. Prakarn said. "As for what happened, I apologize to all sides."
He promised that the army will respect legal procedures, but added that "fairness must be granted to the security officers. We have to give time for them to prove themselves. We must also understand that security officers who work under these conditions may be frightened at times, which can affect their decision-making."
Thailand's southern border provinces are home to a simmering Islamic insurgency that has killed more than 6,000 people in the past decade. Although most people have died in bomb attacks and shootings staged by insurgent groups, Thai authorities have also been criticized for using excessive violence and violating human rights in their efforts to combat the secessionist movement.
Police say that seven soldiers will be charged with murder for their role in the To Chud village raid.
"Those who were involved in this wrongdoing will be summoned to hear their charges and enter the justice procedure," said commander of Pattani police Pol.Maj.Gen. Kritsakorn Pleethanyawong. "Within this week, we will proceed with it. I would like to ask all sides to have confidence in the justice procedure. My supervisor has instructed me to handle this case in a straightforward manner."
He added, "The court will decide who is wrong, who is right."
Suraiya Samaeng, whose 24-year-old son was killed in the raid, said she was satisfied by the committee's findings.
"I would like to thank the committee for their effort and their courage in ensuring fairness for my son. I would like this case to be a lesson, I want it to be the last case. I don't want it to happen to anyone's family. There is nothing that can compensate my loss."
Police also announced today that a man who was shot dead near a military checkpoint in Pattani province last night was unarmed, contrary to an earlier statement provided by the military.
According to the military's original account, Abdullah Dao, 24, was instructed to stop his motorcycle at a security checkpoint at around 11 pm yesterday, but refused and sped away. One of the soldiers manning the checkpoint then opened fire in self-defense because he saw Abdullah reaching for a handgun. A bullet struck Abdullah in the back, killing him at the scene.
However, a senior police officer said today that Abdullah was not carrying any firearms at the time.
The military has not publicly commented on the incident.