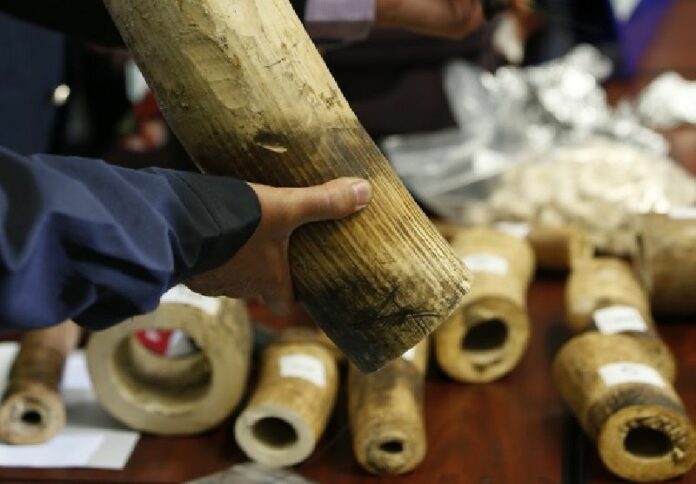 BANGKOK (DPA) — Some 3,000 ivory collectors rushed to declare their holdings on the last day of a Thai government plan aimed at curbing the international trade in elephant tusks, reports said Wednesday.
Private owners of ivory products were required to list each item with the Department of National Parks, Wildlife and Plant Conservation by Tuesday or face a fine of up to 3 million baht (93,000 dollars).

Thai customs officers display confiscated smuggled African elephant tusks during a press conference at Suvarnabhumi Airport in Bangkok, 17 April 2015. EPA/NARONG SANGNAK
Ivory shop owners who fail to report their inventory before the deadline face a fine of up to 6 million baht and three years in prison.
More than 25,000 ivory collectors, including the 3,000 who reported Tuesday, have declared about 155 tonnes of ivory objects, including more than 23,300 pieces of tusk, since the new Thai elephant ivory law came into force on January 22, according to department director-general Nipon Chotiban.
"We've received good cooperation from all stakeholders," the Bangkok Post quoted Nipon as saying. "Such success is beyond our expectations."
He estimated that fewer than 30 percent of all ivory items nationwide remain to be reported to authorities.
The new ivory law was passed after the Convention on International Trade in Endangered Species of Wild Fauna and Flora (Cites) threatened to impose an international wildlife trade ban on Thailand, a member of Cites, if it failed to crack down on the illegal ivory trade.
On Monday the Thai Customs Department announced it had seized its biggest-ever haul of illegally imported African ivory at Bangkok's main port, including 739 tusks with an estimated value of 200 million baht.