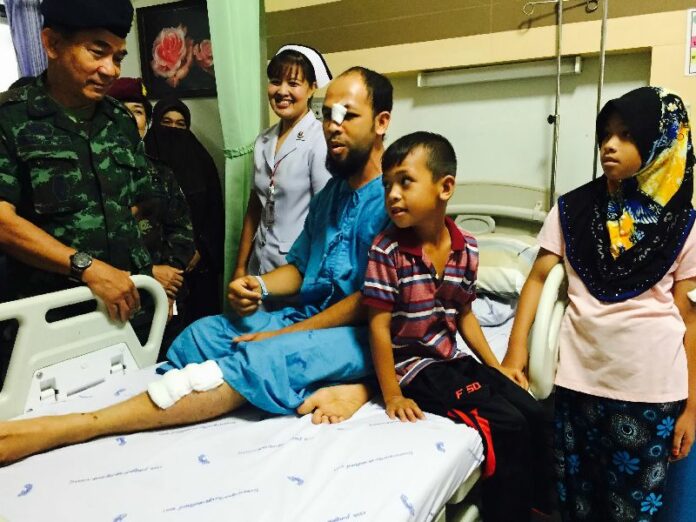 NARATHIWAT — The commander of the Fourth Region Army has urged insurgents in Thailand's southern border provinces stop targeting civilians, especially children.
Lt.Gen. Prakarn Chollayuth made the plea while he was visiting a Muslim man and three children who were injured by a bomb in Narathiwat province on 24 April. The family was leaving a picnic on the beach when the roadside bomb exploded, police say. Authorities suspect the explosive was one of many planted by local militants who are aiming to create a breakaway Islamic state in the three southern border provinces of Narathiwat, Yala, and Pattani.

Lt. Gen. Prakarn Chollayuth visiting a man and his three children who were injured by a bomb in Narathiwat province. 27 April 2015.
"I'd like to tell them, please stop harming innocent civilians. There are only negative consequences," Lt.Gen. Prakarn said at the hospital this morning. "Especially children. They are important strength for the country's future. They should not harm children."
Lt.Gen. Prakarn said medical workers at the hospital are also providing counsel to the three children for the psychological trauma caused by the incident.
A network of shadowy insurgents has been locked in a bloody conflict with Thai authorities since early 2004, claiming more than 6,200 lives. In addition to attacking security officers, separatists also regularly target public schools and teachers, presumably because they are viewed as instruments of the Thai Buddhist state.
Experts say the conflict is mostly fueled by ethnic and religious differences. While the vast majority of Thailand is Buddhist, the three southern border provinces are dominated by Malay Muslims who speak a distinct dialect and trace their ancestry back to the sultanate of Patani, which was annexed by Thailand in early 20th century.
Approximately 60,000 security officers have been stationed in the Deep South to combat the militants. The counter-insurgency is mainly led by the Fourth Region Army, whose commander, Lt.Gen. Prakarn also visited local Muslim clerics in Narathiwat earlier today.
In a meeting at Nurul Huda mosque, Lt.Gen. Prakarn said authorities are focused on rehabilitating former insurgents and helping them return to their normal lives in society.
"We are giving opportunities for the misguided to meet with security officers," Lt.Gen. Prakarn explained to the clerics, using a military term that refers to members of the separatist movement. "The misguided will receive lectures in political schools that we have established in the region, so that their attitude about many issues can be adjusted. I insist that those who went through the program will be able to live their lives normally again. They can leave the country for Hajj."
He continued, "The violent situation has been happening in this region for 11 years now. It only causes losses to the region. Therefore, I ask all of you to help create peace in this region, especially by cooperating with security forces, so that we can move forward to building peace together."
Thai authorities have been criticized for their heavy-handed tactics in the region, which has been governed under martial law for the past nine years. Lt.Gen. Prakarn recently apologized for a military raid on a village in Pattani province last month that left four civilians dead. An independent panel later determined that the four men had no connection to the insurgency.

The site of roadside bombing in Pattani province, 27 April 2015.
This morning, a roadside bomb exploded in Khok Po district of Pattani province at around 8 am and injured two soldiers on patrol. One later died at the hospital. The deceased was identified as Master Sergeant Niphon Niyomchai, a 55-year-old native of Nakhon Ratchasima in northeastern Thailand.