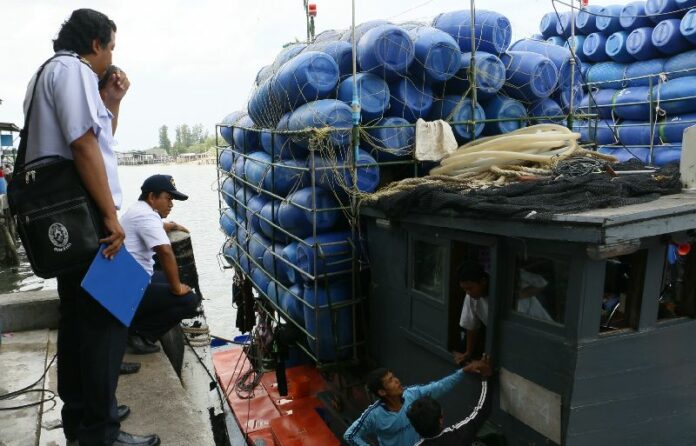 RANONG — Police in southern Thailand say they did not find any illegal activity during an inspection of a fishing port in Ranong province today, conducted as part of a nationwide effort to stave off the European Union's impending ban on Thai seafood.
Police and other government officials inspected workers at Saphan Pla pier, a major fish market and distribution hub, in compliance with the government's orders to crack down on illegal, unreported, and unregulated fishing (IUU), and human trafficking.
The EU announced last week that Thailand has six months to implement new measures to counter illegal fishing, or else face a potential import ban that could cost the country at least 20 billion baht in lost revenue.

Officials investigate workers at Saphan Pla pier in Ranong province, 27 April 2015.
The raid was jointly led by the Ministry of Social Development and Human Security officials, anti-trafficking police, marine police, the counter-insurgency agency Internal Security Operation Command (ISOC), among others.
Police said all of the workers on Saphan Pla pier, most of whom are from Myanmar, are properly registered.
"They have established employers," a police officer said. "They were neither coerced nor enslaved."
Operators of fishing boats in the area have also been instructed to register their port calls, fishing areas, crew lists, and licenses with local authorities, police said.
Experts say many Thai fishing boats are unregistered, and there is no effective record of where fish is caught, or who is working on the boats.
The lack of oversight has allowed Thai boats to fish in neighboring countries' waters, and also staff their ships with illegal and often abused labor. Thailand was downgraded last year in the US's annual human trafficking report, which cited the widespread use of trafficked labor in the Thai seafood industry and the complicity of some Thai officials.
Junta chairman and Prime Minister Prayuth Chan-ocha told the nation in a televised address last Friday that Thailand is likely to miss the EU's deadline.
"We won't be able to meet [the EU's deadline] because the issues are so numerous," Gen. Prayuth said, "Registering fishing boats alone is already difficult. In few days, in few months, we cannot do all of this. And we have received little cooperation so far, too."
Thailand is the world's third-largest exporter of seafood.