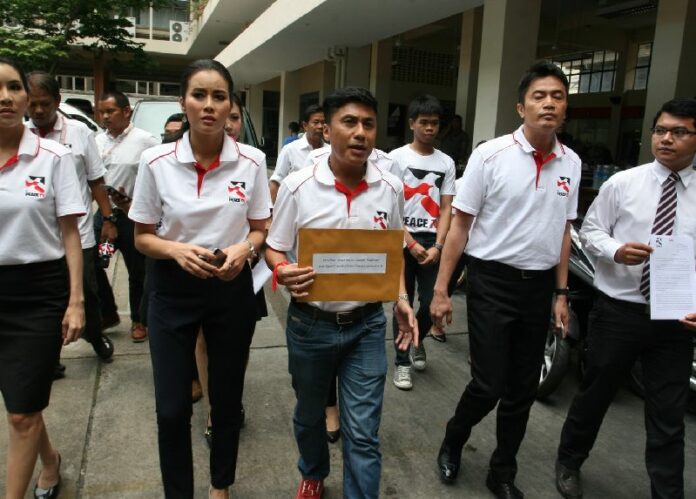 BANGKOK — Redshirt activists have asked junta chairman Prayuth Chan-ocha to overturn a state agency's decision to revoke the license of a Redshirt-operated TV channel.
Thanawut Wichaidith, spokesperson of the Redshirts' official organization, the United Front of Democracy Against Dictatorship (UDD), led a group of activists to submit the letter to Gen. Prayuth, who is also Prime Minister, at the government's complaint center this morning. An official received the letter on Gen. Prayuth's behalf.

Redshirt activists submit a letter of complaint to a government official in Bangkok, 30 April 2015.
The letter was protesting the National Broadcasting Telecommunication Commission's (NBTC) decision earlier this week to revoke the license of Peace TV, a channel operated by the UDD.
Officials said the station violated junta orders that forbid the media from inciting unrest, causing "divisions in the Kingdom," or mobilizing an opposition movement. The NBTC has not publicly commented on what specific content aired on Peace TV violated these orders.
The agency has also yet to formally deliver the order requiring Peace TV to cease operations.
Speaking to reporters today, Thanawut said Gen. Prayuth should use his power to convince the NBTC to reverse the ruling.
"On 29 April, the Prime Minister said during a conference with Thai diplomats from around the world that he will stick to democratic principles. But if Thai people are still being blindfolded like this, I don't think it is democracy."
Arunothai Siributr, an anchorwoman at Peace TV, said the station is one of few outlets that airs pro-democracy views. Since seizing power, the junta has severely curbed freedom of expression in an effort to silence critics of its reform process.
Critics say the junta is particularly bent on curbing the influence of the Redshirt movement, which supported the government toppled in the coup.
"Right now, Thailand is moving toward reconciliation, and Peace TV is one of the channels for democracy fighters to air their opinions, and say what they think about the constitution," Arunothai said, referring to the new charter being drafted by a junta-appointed committeee. "We want our channel to reflect opinions in a constructive way."
Last night, soldiers and police officers stormed the headquarters of Peace TV in Bangkok and ordered technicians to stop broadcasting a videotaped interview with former Prime Minister Chavalit Yongchaiyudh. Chavalit, a retired military commander, is considered an ally of former PM Thaksin Shinawatra, the de facto leader of the Redshirt movement.
Gen. Udomdet Sitabutr, chief of the Royal Thai Army, said he ordered the raid to prevent a potential violation of the laws. He said the military did not find any wrongdoing during the visit.
Asked whether Gen. Chavalit will be summoned for attitude adjustment, Gen. Udomdet replied, "I think we understand each other already. I listened to his interview, and I think he will not do anything [wrong]. Furthermore, he's also a former commander in the armed forces. Everyone respects him and treats him with dignity. I don't think there will be any problem."
Both of Thailand's Redshirt and Yellowshirt movements operate their own TV and radio channels featuring news programs and live broadcasts of political rallies. Media agencies affiliated with the two groups played significant roles in the pro- and anti-government rallies last year that culminated in the May 2014 coup.
Two days before seizing power, Gen. Prayuth unilaterally imposed martial law and ordered all partisan media agencies to shut down. The news outlets, which included both Redshirt and Yellowshirt stations, were later allowed to resume operations under conditions that they change the names of their stations and adhere to the junta's guidelines.