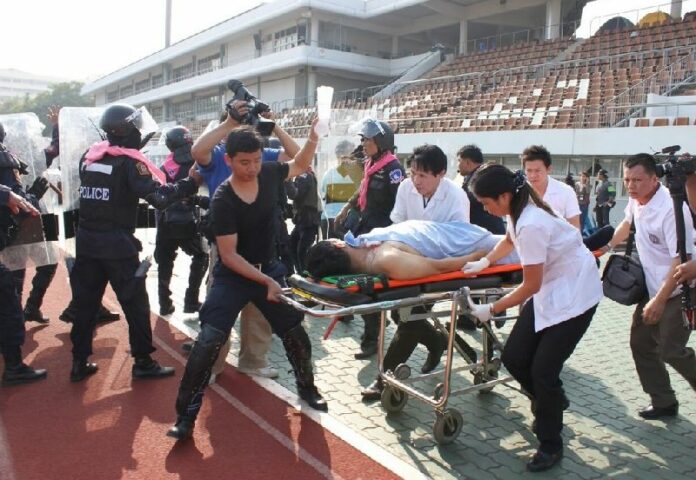 BANGKOK — There was not enough evidence to determine whether police were responsible for the death of a demonstrator who joined an anti-election protest in Bangkok last December, a criminal court in Thailand said today.
Wasu Suchanthabutr, 30, was shot during clashes between police and anti-government protesters on 26 December 2013. The protesters, led by the People's Committee for Absolute Democracy With the King As Head of State (PCAD), were besieging a sports stadium in Bangkok's Din Dang district in an effort to disrupt election registration procedures that were taking place inside.

Wasu's mother, Thipapha Suchantabutr, speaking to reporters outside of the court house on 3o April 2015.
Wasu was shot in the stomach and died in a hospital the next day. PCAD supporters accused police of using shooting Wasu, but police say officers were only carrying tear gas, rubber bullets, and batons with them on that day. A police officer was also shot and killed during the clash.
Today the Ratchadapisek Criminal Court in Bangkok said there was not enough evidence to determine who is responsible for Wasu's death.
Wasu's mother, Thipapha Suchantabutr, told reporters that she respected the court's decision, but urged police to continue investigating the incident.
"If anyone has a clue that leads to arrest of the perpetrator, my family will hand that person one million baht as a reward," Thipapha said.
The PCAD was the latest reincarnation of the Yellowshirts, a movement opposed to former Prime Minister Thaksin Shinawatra and his political allies. Thaksin was ousted in a coup following Yellowshirt protests in 2006, and has lived in self-imposed exile to avoid a corruption conviction.
The PCAD was formed in 2013 after the government led by Thaksin's sister, Yingluck Shinawatra, attempted to pass an amnesty bill that would have allowed for Thaksin's return to Thailand.
The Yellowshirts, who largely consist of urban Bangkokians and conservatives, view Thaksin as a corrupt politician who has courted Thailand's rural masses strictly for personal gain.
Yingluck responded to the PCAD's street protests by dissolving the House and organizing a snap election in February 2014. However, protesters boycotted the poll and demanded the government be replaced by an unelected "people's council" to implement national reforms before a new election.
The Constitutional Court later nullified the February 2014 election because the poll did not take place on the same day throughout the Kingdom after the PCAD successfully disrupted voting in some southern provinces and parts of Bangkok.
The protests continued until the military staged a coup d'etat against the government on 22 May 2014.
In a separate court inquest announced today, another court in Bangkok also ruled that there was insufficient evidence to determine who killed one foreign journalist and two Redshirt demonstrators during a military crackdown on protesters in 2010.