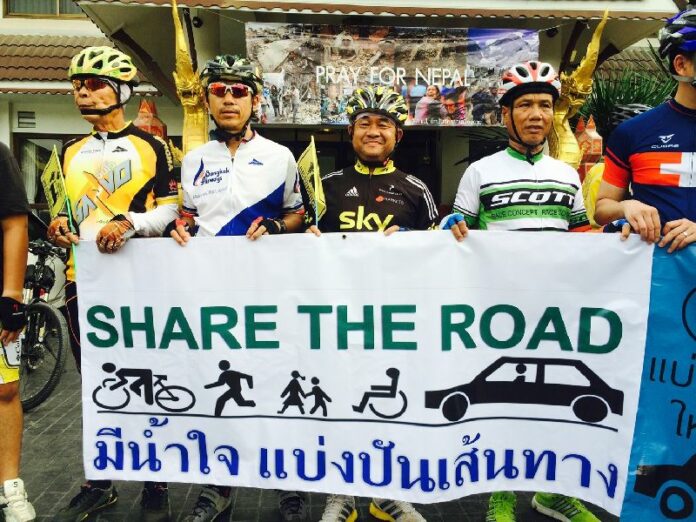 BANGKOK — Thai junta chairman and Prime Minister Prayuth Chan-ocha has ordered police to crack down on drunk driving, a day after a 23-year-old woman driving under the influence killed three bicyclists in northern Thailand.
Gen. Prayuth specifically instructed police to organize more road check points and strictly refuse any bribes from motorists, said Maj.Gen. Sansern Kaewkamnerd, a spokesperson of the military government.

The scene of the car crash in Chiang Mai that killed three cyclists on 3 May 2015.
"The Prime Minister has also ordered police to investigate the facts that led to this tragedy," Maj.Gen. Sansern said. "For example, to find out where the [driver] was drinking. If it was a nightlife establishment, they must check whether illegal activity was involved, such as possible violation of a mandatory closing time, because the incident took place early in the morning but the motorist said she was still intoxicated."
He added, "The Prime Minister does not want to just proceed with this incident. Police should tackle the root causes."
Phatchuda Chairuean, a university student, crashed her car into a group of bicyclists in Chiang Mai province at around 6 am on Sunday, killing three victims and injuring two other people. Phatchuda was also wounded in the crash and sent to hospital, where tests revealed that her blood-alcohol level was above the legal limit. Police say she was charged with reckless driving leading to deaths and injuries of others.
Drunk driving is a major cause of traffic accidents in Thailand. During the seven-day Thai New Year festival in April known as Songkran, intoxicated drivers were responsible for more than 1,000 road accidents, according to statistics compiled by the Thai authorities.
The incident also came at a time when Thai authorities are encouraging more people to use bicycles to reduce fuel consumption and ease the notorious traffic jams in major cities, especially Bangkok.
"Gen. Prayuth also extends his condolence to families and friends of the dead and injured," Maj.Gen. Sansern told reporters today. "He also urged traffic commuters to be compassionate and drive carefully, and to share the roads with bicyclists, which are increasing in number every year."

Cyclists gather in Chiang Rai to promote road safety, 4 May 2015.
At around 5:00 pm today, more than 200 cyclists gathered in front of a hotel in Chiang Rai province and held a brief rally urging improved road safety. The group held a moment of silence in memory of the three who died on Sunday, and then proceeded to bike around Chiang Rai as a part of their campaign.
One of the event's organizers, 59-year-old Sakda Wiwatkachornsak, said cycling groups in the province have urged their members to wear bright vests and avoid "risky" roads.
"Our clubs are also pushing for bike lanes on many roads, because in the present time, more and more people are interested in biking as exercise," Sakda said.
In February, a Chilean bicyclist was run over and killed in northeastern Thailand during his attempt to set a world record of cycling around the globe.