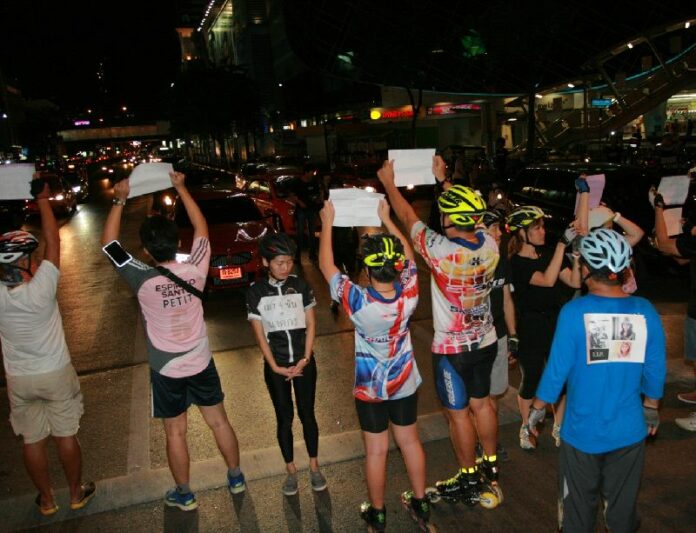 BANGKOK — The hit-and-run motorist who fatally ran over a cyclist in Bangkok surrendered to police yesterday, and was released after being charged with reckless driving.
The driver, Saran Intanin, crashed into a group of cyclists on 4 May, killing one 31-year-old woman and injuring several others. After the incident, Saran made a brief visit to the hospital, where he provided a false name, and left before speaking with police.
Saran surrendered to police yesterday after a Facebook page called CSI LA, operated by a self-styled "investigation expert," identified him using a grainy mobile phone image taken by a witness at the scene. Saran was charged with reckless driving leading to deaths and injuries of others, which is punishable by up to 10 years in prison.
Saran told reporters he was driving a car that belonged to one of his friends, and lost control of the vehicle while he was trying to pass another car in front of him. He said he did not realize that he had crashed into the cyclists until he stepped out of the car.
"That second I knew I hit someone. I ran to see the man who was on the road, then I ran and jumped across the [roadside] fence to see the body of a woman in front of me," Saran told reporters. "My knee suddenly went down, and I apologized. I told her I was sorry, I didn't intend to do this."
Saran also explained that he later fled the hospital because he was "frightened." He said he decided to surrender to police with a lawyer after consulting his family about the incident.
"I apologize. I'm sorry. I cannot do anything now. I will let the laws handle the case," Saran said, adding that he was not drunk during the incident. He was later interrogated by police for several hours and released from custody on the same day.
Retracting early statements made by police, Pol.Lt.Gen. Sriwarah Rangsipramkul, commander of Bangkok Metropolitan Police, said the car driven by Saran was not stolen after all. According to Pol.Lt.Gen. Sriwarah, the car was mistakenly reported stolen because of a dispute among family members in 2010.
"There was misunderstanding that it was a case of theft," Pol.Lt.Gen. Sriwarah said. "But actually it's family issue. So that led to some inaccuracy in the facts."
Five bicyclists have been killed on Thai roads in the past week alone. On 3 May, three cyclists were run over and killed by a 23-year-old university student in Chiang Mai province whose blood alcohol content exceeded the legal limit. On 5 May a bicyclist died in Ayutthaya province after a truck crashed into a roadside billboard, causing the structure to fall and crush the 63-year-old man.
Yesterday, a cyclist was injured by a motorcycle in Bangkok's Prawate district. Police say the cyclist, Wichian Pinkesorn, 55, suffered some injuries on his head but state that his condition is not life-threatening.
Wichian, who is missing one hand, is well-known among bicyclist circles in Thailand for having biked through 72 countries.