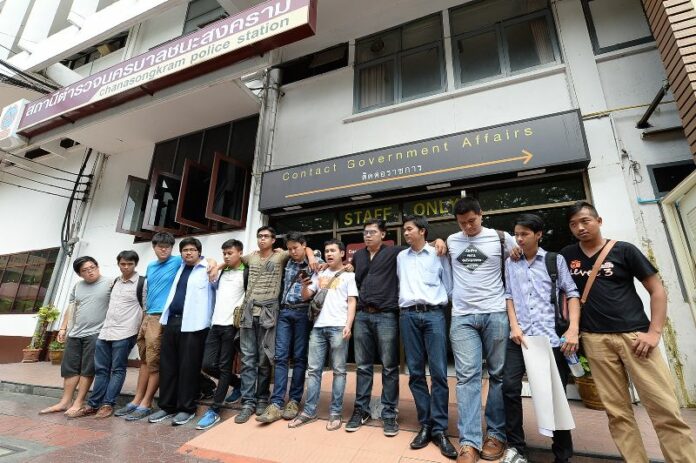 BANGKOK — Police arrested around ten student activists several hours before they planned to protest the May 2014 military coup d'etat on its one-year anniversary.
The activists, who belong to the Young People for Social-Democracy Movement (YPD), were detained by police officers in front of the 14 October Uprising Memorial on Ratchadamnoen Avenue.

Student activists arrived at the 14 October Uprising Memorial to find the entrance barricaded, 22 May 2015.
A statement on the group's Facebook account said the activists were planning to hold a public forum at the memorial on the state of human rights in post-coup Thailand, followed by a protest at nearby Democracy Monument later in the evening.
However, security officers blocked the entrance to the memorial before the students arrived. Upon seeing police, the activists decided to read a statement in front of the venue, prompting officers to arrest them and bring the group to Chanasongkram Police Station for interrogation.
The students were interrogated and released without charges at around 2.30 pm.
The statement, which was also posted on the YPD's Facebook account, denounced the military junta's suppression of freedom over the past twelve months.
"We cannot build a democratic society if we lack freedom, liberty, rights, justice, and reconciliation," the statement reads. "We believe that peace in society will not be born out of a lack of resistance. Peace in the society will only be born out of equality and justice in terms of power, economics, and politics."
Small anti-coup protests around the country
Political activities and public challenges to the military regime are banned by the junta, which came to power after overthrowing an elected government on 22 May 2014. Detractors are often arrested and some have been sent to face trial in martial court, where appeals are not permitted.
Nevertheless, activists have planned several public events to commemorate the first anniversary of the coup today.

Plain-clothed officers arrest Dao Din activists for their anti-coup protest in Khon Kaen, 22 May 2015. [Photo: Dao Din]
This morning, police arrested seven student activists for unfurling an anti-coup banner in front of a Democracy Monument in the northeastern province of Khon Kaen.
The activists belong to Dao Din, a student group that gained national attention after four of its members interrupted Gen. Prayuth during a speech and flashed the forbidden anti-junta "three-finger salute."
Meanwhile in Bangkok, thirty students from Ramkhamhaeng University held a brief rally in front of Parliament to honor a pro-democracy uprising in May 1992, when tens of thousands of demonstrators flooded the streets of Bangkok to demand an elected Prime Minister.

Students from Ramkhamhaeng University rally in front of Parliament to honor the pro-democracy uprising in May of 1992, 22 May 2015.
Nanthapong Panmat, the leader of today's demonstration, described the charter drafted by the current junta as a departure from the legacy of the 1992 uprising because it opens up a channel for an unelected Prime Minister.
"The Prime Minister has to be elected by the people," Nanthapong said. Police did not interfere with the demonstators, who dispersed on their own.
A separate anti-coup group called Resistant Citizens is scheduled to appear at the Criminal Court in Bangkok today to file a charge of high treason against junta chairman Prayuth Chan-ocha for overthrowing a democratic government.
Another group of activists is preparing to hold a vigil in front of the Bangkok Arts and Culture Center in downtown Bangkok at 6 pm today.
The New Y0rk-based Human Rights Watch released a statement today condemning the junta's "deepening repression" of civil rights in Thailand.
"One year since the military coup, Thailand is a political dictatorship with all power in the hands of one man," said HRW's Asia Director Brad Adams. "The date for elections continues to slide, with no certainty when they will happen. Backsliding on respect for basic rights and democratic reform seems to have no end in sight."