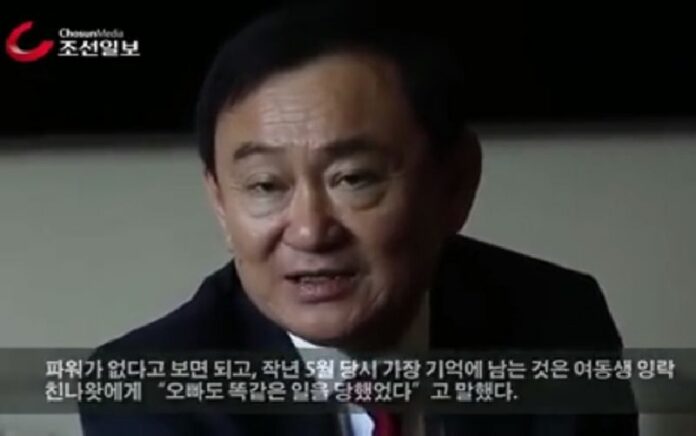 NOTE TO READERS: This article has been edited to comply with Thailand's lese majeste law, which bans criticizing the monarchy.
BANGKOK — In his strongest criticism of the May 2014 coup yet, former Prime Minister Thaksin Shinawatra told a South Korean media agency that last year's military takeover was plotted by Thailand's traditional elites.
The video clip was posted today on the one-year anniversary of the coup by a pro-Redshirt Facebook page called "Stop Hypocrisy in Thailand."
Speaking in Thai above Korean subtitles, Thaksin alleged that traditional elites helped engineer the anti-government protests that culminated in the coup that overthrew his sister's government twelve months ago.
"When they didn't want us to stay anymore, they made Suthep [Thaugsuban, leader of anti-government protests] come out, and then had the military help him," Thaksin told Chosun Media, which organized a leadership conference that the former PM attended this week in Seoul.
Thaskin said the military takeover "played out like what I had been through," referring to the military coup that ousted him from power in 2006. The 2006 putsch also followed months of protests against his government.
In both cases, the military said it was forced to intervene to restore peace and order.
Although Thaksin has been living in self-imposed exile to avoid a corruption conviction since 2008, he has remained extremely influential in Thai politics. However, he has rarely spoken in public about politics since the May 2014 coup.
Maj.Gen. Sansern Kaewkamnerd, a spokesperson of the Thai military government, called Thaksin's remarks in the video "baseless" and "irresponsible."
"It's talk about old things. His claims are baseless," Maj.Gen. Sansern said. "The former Prime Minister likes to see himself like the center of the universe and see other people as opponents, without considering the fact that throughout his tenure, there was corruption, abuse of power, and creation of unprecedented divisions in Thailand … He should not use his opportunity to be in foreign countries to talk irresponsibly."
Maj.Gen. Sansern also insisted that the military decided to seize power from the former government to restore peace and order.
"The peace that has taken place in the country throughout the past year is a proof of action of the government and the [junta]," he said. "I believe that the people understand who deserve praises, based on actions, not on words that can be made to look beautiful but is contradictory to the actions."
Thaksin is an extremely divisive figure in Thai politics. Although he ​has continued to command the ardent support of Thailand's rural-based Redshirt movement, he is reviled by the country's mostly-urban conservatives and traditional elite, who accuse him of corruption and disrespect for the monarchy.