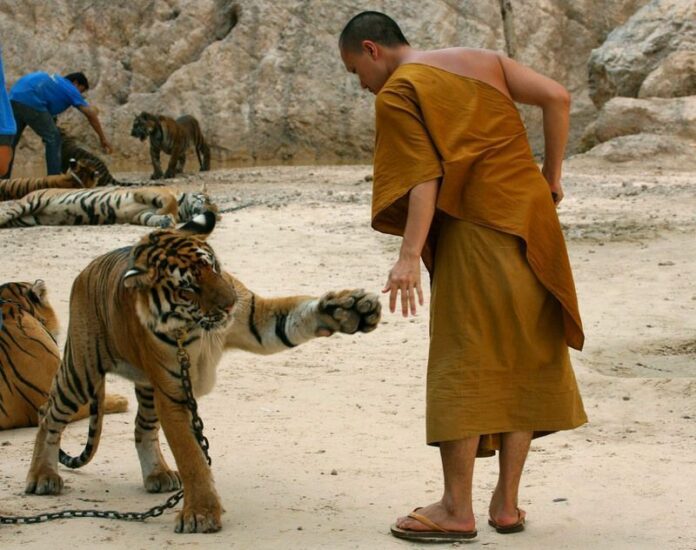 KANCHANABURI — The abbot of a controversial temple where tourists pay to interact with more than 100 tigers was attacked by one of the wild cats in the sanctuary yesterday.
Phra Wisutthisannen, aka Luang Ta Chan, was sent to hospital with severe wounds on his face and right arm, a temple administrator told reporters.
The abbot was walking the male tiger, named Hern, back to his cage yesterday when the tiger suddenly lunged at his face and bit his arm, said Pol.Col. Sutthipong Pakcharung, deputy chairperson of Wat Pa Luang Ta Maha Bua Foundation.
According to Pol.Col. Sutthipong, the staff immediately pushed the tiger into the cage and sent the abbot to the hospital. Phra Wisutthisannen will undergo surgery to mend his arm, the official said, adding that the monk's condition has been improving.
"I'd like to tell disciples of Luang Ta Chan: don't worry," Pol.Col. Sutthipong told Khaosod last night.
He said staff at Wat Pa Luang Ta Maha Bua believe the tiger might have been in an unusually moody condition, as it is currently mating season.
Known worldwide as the "Tiger Temple," the establishment in Kanchanaburi province offers guided tours in which visitors can pose for photos with some of the 143 tigers living there.
However, the temple has come under criticism from animal rights organizations who say the tigers are mistreated and must be relocated to a proper habitat.
In April, the Department of National Park launched an investigation into Wat Pa Luang Ta Maha Bua after it emerged that the temple was holding wild animals, such as rare birds and bears, without a permit.
The temple also does not possess a proper license to keep the tigers, Thai officials say.
The investigation came to an end in late April when officials suddenly aborted the plan to remove the tigers from the temple on the condition that the monks apply for proper permits from authorities in the near future.