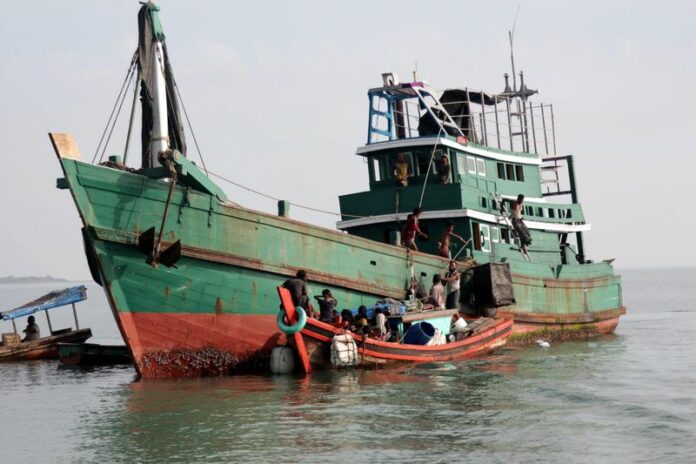 BANGKOK — The Thai government's policy of allowing boats of migrants in Thai waters to continue to a third country is illegal and indirectly supports the human trafficking trade, according to a member of the Lawyer Council of Thailand.
Surapong Kongchantuk, the head of the council's subcommittee on migration and stateless people, was referring to the Thai Navy's policy of asking boat people in the Andaman Sea whether they wish to land in Thailand or sail to other countries.
According to the policy, migrants that wish to continue to a third country will be provided with humanitarian assistance before continuing onwards, while anyone who lands on Thai shores will be processed as illegal immigrants.

Refugees from Myanmar and Bangladesh are rescued by Aceh fishermen in Julok, East Aceh, Sumatra, Indonesia, 20 May 2015. . EPA/STR
Surapong pointed out that this policy violates Thai laws that explicitly require authorities to arrest every person who enters Thai territory without proper documentation. He also stressed that adhering to these laws is necessary to snuff out the long-running human smuggling operation, which involves ferrying migrants from the Bay of Bengal to Malaysia and Indonesia, often using Thailand as a transit country.
Human traffickers may be on the boats and simply pose as refugees, Surapong said, citing a case from 2008 in which 6 traffickers were found among 78 migrants rescued and interrogated by Thai police.
By permitting the traffickers to continue to onward without arrest, the Thai navy is allowing the business to thrive, he said. The migrants also likely hold valuable information about the network of smugglers and traffickers, which would be lost if their boats were simply let go.
"The solution is to stick to the laws and bring these people to the justice system," Surapong said at a talk on the Rohingya crisis at Thammasat University in Bangkok. "Root out the traffickers. Interrogate the victims. We talked to those 78 [migrants] for over 90 days. We realized that six of them were traffickers. Then they gave us information about other traffickers in Thailand."
Surapong added that migrants must be treated in accordance with humanitarian principles while they are detained in Thailand, and that Thai authorities should not deport anyone whose life will be at risk upon return to their home country.
Nevertheless, Gen. Prayuth insisted yesterday that Thailand will continue to let boats of migrants pass if the occupants express a desire to go elsewhere.
"As for the Rohingyas in the seas, they will be treated under the same method, which is, depends on their hearts, where they desire to go," Gen. Prayuth told reporters at the Government House.
He also unveiled a plan of placing a helicopter carrier in the Andaman as a "floating station" to assist the boat people before sending them to Malaysia or Indonesia; the governments of the two nations have pledged to provide temporary shelter for Rohingya and Bangladeshi migrants that enter their territories.
"Don't criticize the government or Thailand. Our budget is limited, and it is getting smaller each day," Gen. Prayuth said . "It's impossible for them to live and eat as well as Thai people."
More than 3,000 migrants fleeing poverty in Bangladesh and ethnic persecution Myanmar have landed on Malaysian and Indonesian shores this month, with thousands more thought to be adrift at sea.
The surge of stranded migrants was triggered in part by Thailand's clampdown on trafficking operations in the south earlier this month, which spurred smugglers to abandon their human cargo.
After sweeping the region, Thai police found several jungle camps used by traffickers to detain and abuse migrants until their relatives sent hefty ransom sums. Mass graves of human corpses were found nearby, presumably containing those who were unable to secure ransom from their families.
This week, Malaysian authorities found 139 graves, many containing multiple corpses, at 28 human trafficking camps nearby the Thai sites on the Malaysian side of the border.
Thailand is holding an international summit to discuss the humanitarian crisis on 29 May 2015.