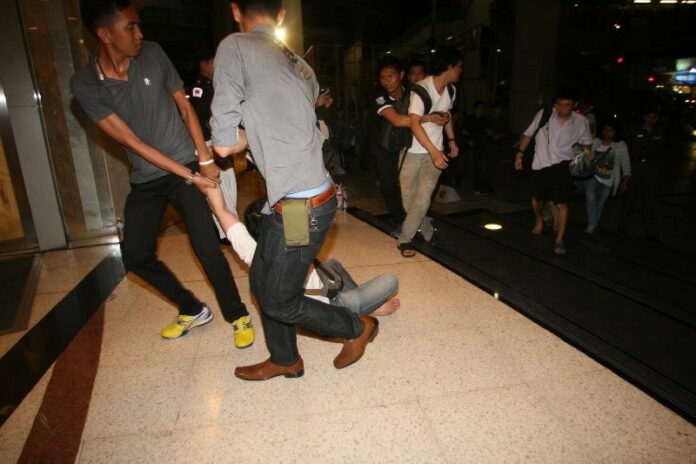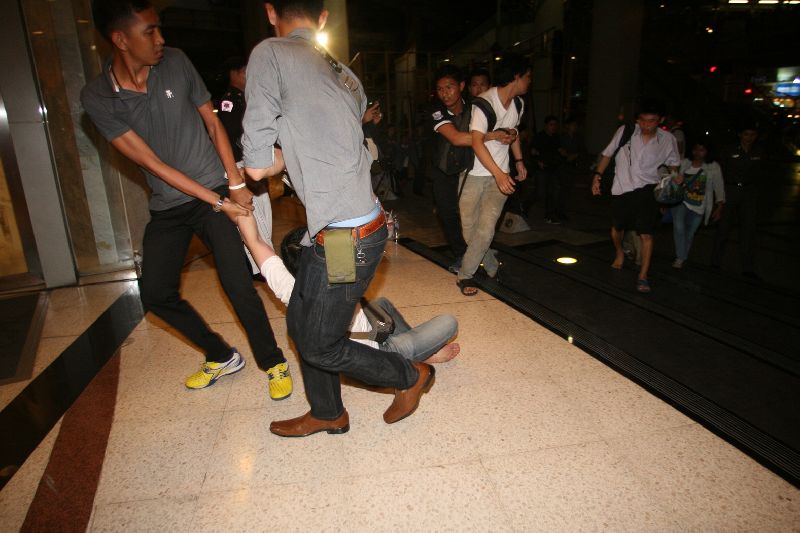 BANGKOK – Thailand's National Human Rights Commission (NHRC) listened to testimony from student activists who say they were abused by security officers who forcefully broke up their anti-coup protest last week.
The protest was organized by student activists in front of the Bangkok Art and Culture Center in downtown Bangkok on 22 May 2015 – the first anniversary of the coup d'etat that brought the current military junta to power.

Plain-clothed officers drag a student activist away from the BACC anti-coup protest on 22 May 2015.
The demonstration was planned as a peaceful "sit-in" that would last 30 minutes, but security officers (mostly plain-clothed) quickly moved in and aggressively dragged each student away, arresting all 33. They were released the next morning without charges.
Niran Pitakwachara, director of the NHRC's subcommittee on civil rights, told reporters today that the Commission spoke to some the students who were at the protest last week.
"During the crackdown, many students were physically assaulted. They were beaten and kicked," Niran said. "Some also reported being electrocuted. And there were reports of security officers lifting the students up and throwing them on the ground, and of officers taunting students to fist fights."
The students provided video footage and photographs of the crackdown to the NHRC as evidence, Niran said.

Female officers drag a student activist away from the BACC anti-coup protest on 22 May 2015.
Public protests of any kind are currently banned by the military junta, known formally as the National Council for Peace and Order. Police also arrested activists who held two other small gatherings to mark the coup anniversary on 22 May 2015 in Bangkok and Khon Kaen province.
Kraisak Choonhavan, another member of the NHRC, said he believes the students' protest was lawful.
"I don't think the students have done anything that is above the boundary of the laws," said Kraisak. "It's just their expression of opinion may be different to the government. Based on the subcommittee's inquiry, we found no instance of the students violating other people's rights."
Kraisak said the NHRC will summon police and military officers who were involved in breaking up the 22 May protest to give testimony next week.
However, speaking to reporters today, junta deputy chairman Prawit Wongsuwan dismissed the allegation that security officers abused the students at the protest.
"We didn't suppress anyone, and security officers did not harm the students," said Gen. Prawit, who also serves as Minister of Defense, "There were [problems] when they tried to control the situation, so there were slight clashes. It is because the students broke the laws."
The general added, "We have opened space for them to speak, but the space is not opened for display of conflicts. Anyone who broke the laws has to be treated accordingly."