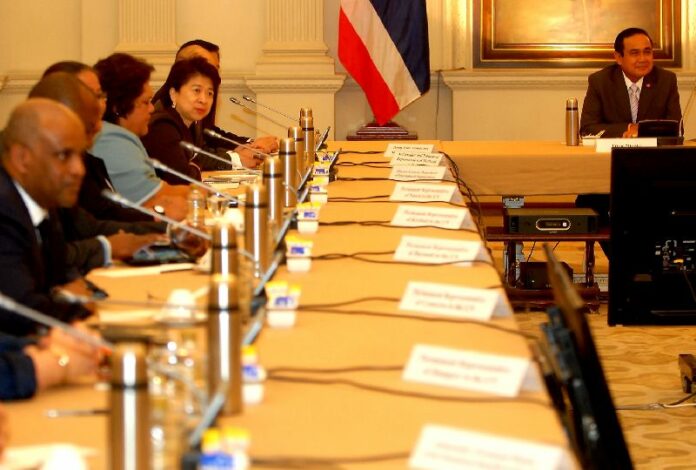 BANGKOK – Ambassadors from twelve countries are visiting Bangkok today as a part of the Foreign Ministry's effort to form a new diplomatic bloc that promotes Thailand's standing in the international community, a government spokesperson said.
"They visited Thailand through our program of creating a network of alliances for Thailand – called Friends of Thailand – which has been formed by the Ministry of Foreign Affairs," said Maj.Gen. Weerachon Sukhonthapatipak.
The diplomats, who are ambassadors to the United Nations, hail from Antigua and Barbuda, Burundi, Central African Republic, Comoros, Dominican Republic, Gabon, Ghana, Kiribati, Hungary, Nauru, Vanuatu, and Cameroon.
According to Maj.Gen. Weerachon, junta chairman and Prime Minister Gen. Prayuth Chan-ocha met with the UN ambassadors today and told them that Thailand is undergoing a period of national reforms, and will hold an election by September 2016.
"The Prime Minister and the government will not interfere [with the election]," Maj.Gen. Weerachon said. "And he insisted that he did not want to hold on to power, and is not seeking personal gain. He is enduring all of this for his country. In the past, various conflicts prevented the country from moving forward, so it was necessary for him to step in and take care of the situation. And he insisted that Thailand is building a sustainable system of democracy."
Gen. Prayuth overthrew an elected government on 22 May 2014 following months of pro- and anti-government protests, which claimed lives of more than 30 people.
His military government and steady suppression of civil rights has come under criticism from democratic nations, including the United States and the European Union, who have said that full-scale diplomatic relations will be not be restored until Thailand returns to democratic rule.
Analysts say the junta has responded by seeking closer ties to other superpowers who are more accepting of the regime, such as China and Russia.
Speaking at a press conference today, Maj.Gen. Weerachon told reporters that representatives from all twelve nations expressed support for Thailand's military government.
"The diplomats spoke with one voice, that Thailand is a good place to live, and it is full of friendship," Maj.Gen. Weerachon said. "They also gave moral support to the administration, which has clearly proven to them that it is working to benefit the Thai people and spread happiness. The diplomats unanimously agreed that in order to move the country forward, stability and national security have to come first, then other things will follow."
The "Friends of Thailand" ambassadors did not ask any questions related to "allegations about human rights violations" in Thailand, the spokesperson added.
On the one-year anniversary of the coup last week, Human Rights Watch published a report describing how the junta has "systematically" suppressed human rights in Thailand. The report noted the junta's ban on political activities and protests, regular intimidation of the media, and use of arbitrary detention and martial courts.
In the latest act of repression, police forcefully broke up an anti-coup protest organized by student activists in Bangkok that marked the first anniversary of the coup. More than 30 students were arrested.
"A full year since the Thai military declared martial law and took power, we are seeing how peaceful dissent is still being steamrolled in the streets," Amnesty International's Asia-Pacific Director saidon 22 May 2015. "The authorities must respect and even protect peaceful dissent and lift draconian restrictions on expression and assembly in Thailand – in law and practice."