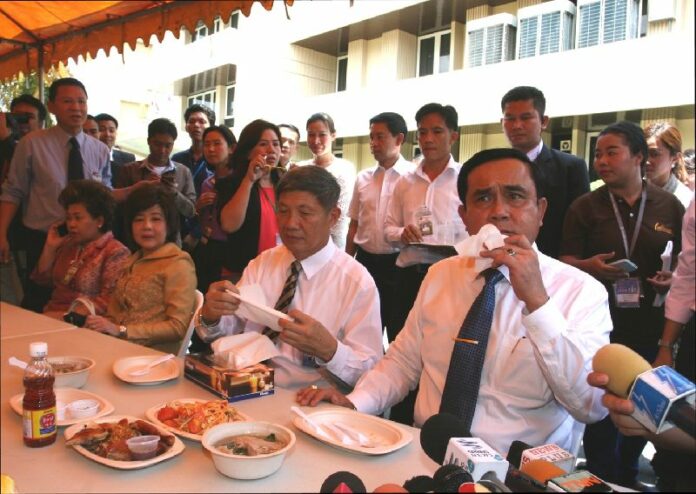 BANGKOK — Thailand's military leader told reporters over lunch today that he felt inspired by Abraham Lincoln after watching a Hollywood film about the American president.
"I watched this film the other day — I have taught myself to start watching meaningful films — I watched it during my haircut. It's a film about President Lincoln," Gen. Prayuth Chan-ocha said, referring to Steven Spielberg's 2012 historical drama about Lincoln's efforts to abolish slavery in the United States.

Gen. Prayuth Chan-ocha eating with reporters at the Government House in Bangkok, 28 May 2015.
"He fought for the end of slavery," continued Gen. Prayuth. "It took so long before he could amend it. I like his words when he said, 'equality is not real in the world, but we can build equality by writing laws.' This is what we are doing, the laws that we are writing. I also like his other quote about how people's protests are not wrong; insurrection is wrong."
Gen. Prayuth came to power by staging a coup d'etat against an elected government on 22 May 2014, following months of rival pro- and anti-government street protests. He has suspended democracy and clamped down on freedom of expression with the stated aim of healing Thailand's political divisions. Elections are tentatively scheduled for September 2016.
Widely known for his hot temper and volatile relationship with the press, Gen. Prayuth sought to strike a more friendly disposition today by joining reporters at their cafeteria tent inside the Government House compound.
At one point during the meal, the junta chairman also commented on his newspaper-reading habits.
"Nowadays I read newspapers. Whichever newspapers are credible, I accept their words and I clip out the articles. I will use them to improve my work."
He also said the junta is trying to solve numerous problems in the country, and has no intention to "bully" anyone.
When a reporter asked whether he has ever watched his weekly TV address, and whether he felt bored of the program, Gen. Prayuth replied, "I have, and I feel bored, but I want people to listen to something useful. I'd like to ask the people to endure me."
Below are several other quotes from Gen. Prayuth's informal lunch with reporters today:
On a proposal to grant amensty to those facing legal action for politically-motivated crimes:
"Today there are no political prisoners in prison. There are only prisoners charged with criminal crimes. You keep talking about political prisoners. They fired their weapons in protests, is that politics? There were firearms and bombs in the protests, yet you say it's a political case, you have it all mixed up. Is that right? Learn how to think."
On whether former Prime Minister Thaksin Shinawatra will be charged with lese majeste for controversial comments he made in a recent interview with a South Korean media agency…
"I'm not doing it. Many people have filed charges against him to police. The army has also filed a charge, because he defamed and incited hatred toward the army with his accusations."
…or have his police rank stripped:
"Actually, there are agencies that are responsible for this. But as for my part, we don't want it too be too harsh. Otherwise it will play in his hand and he will accuse us of bullying him. I want him to understand and tone down his words, but he has not changed at all. So, relevant agencies will handle it. I will not prevent them."
On whether Thaksin has contacted him at all since the coup:
"Never. And why would I want to talk to him? I cannot talk to him. Even if he contacted me, I wouldn't talk to him, because today I am a state official. Regardless of the channel of contact, I will not listen to him."