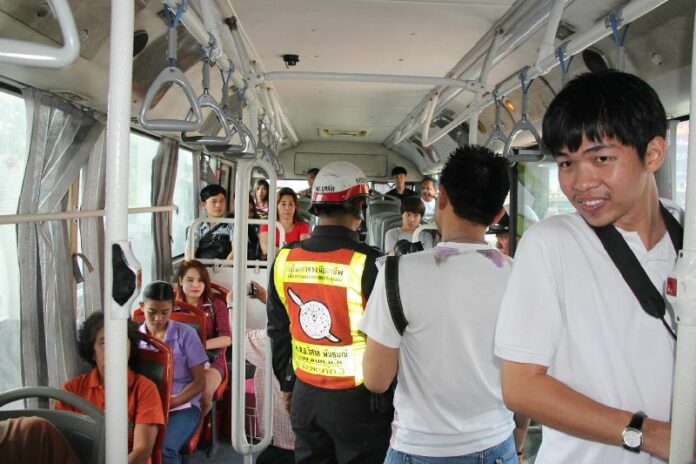 BANGKOK – Police say they have arrested a public bus driver in Bangkok for driving under the influence of methamphetamine.
Police first received reports that bus No. 75 broke down near Krung Thep Bridge in Thonburi district this morning, causing a 1 km-long traffic jam, said Pol.Lt.Col. Chayan Benchathikul, a traffic police officer at Bukkhalo Police Station.
Upon arriving at the scene, police officers discovered that one of the bus's wheels was misplaced, Pol.Lt.Col. Chayan said. The bus driver, Sombat Kankaew, 45, was also questioned.
According to Pol.Lt.Col. Chayan, the bus driver suddenly started acting "strangely like he was on drugs."
"So we decided to escort him to a traffic lights control booth at the intersection and asked for a urine test," the officer said. "He tested positive for narcotics uses."
Pol.Lt.Col. Chayan said Sombat confessed to taking a tablet of methamphetamine this morning because he did not get much sleep the night before. Sombat has been charged with consuming Category 1 narcotics. The suspect will also lose his license for driving public vehicles, police said.
Pol.Lt.Col. Chayan added that police have received several complaints about buses on the No. 75 route, chiefly for driving too fast and breaking traffic laws.
Police arrested another driver of the same route in a random narcotics test yesterday. No. 75 buses, which run between Buddha Bucha Temple and Hua Lamphong Rail Station, are operated by a private company called Sri Sawasdi Yon Kit.
"I didn't expect that today I will arrest one more driver," he said. "After this incident, police will summon the owner of the bus depot to inform them about the behavior of bus drivers hired by the company, and we will talk about finding a solution to prevent danger that may happen to passengers or other commuters on the road."