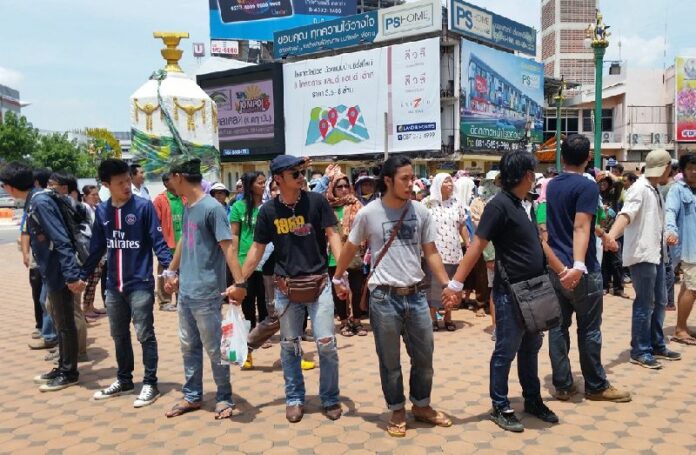 BANGKOK — Nearly 100 pro-democracy activists staged a rare rally against the Thai junta today, hours after junta chairman Gen. Prayuth Chan-ocha reminded the public that protests are still banned in Thailand under his military regime.
"Don't try to fool me and act like you can do or say anything 'because we are a democracy,'" Gen. Prayuth said at an anti-corruption event in Bangkok this morning. "Do you misunderstand something? Today, I am the one makes the rules. Previous governments couldn't do that. But today, I made the rules, and all of you have to follow them."
The general outlawed public protests and political activities after seizing power from an elected government in May 2014. The few who have attempted to defy the ban – mostly university students – are usually quickly rounded up by police. Some have also been charged and sent to face trial in martial court.
Speaking to the audience this morning, Gen. Prayuth warned that he has the names of people who are preparing protests against his regime, but did not elaborate.
Hours later, nearly 100 people gathered in the northeastern province of Khon Kaen in solidarity with seven student activists who are facing charges for unfurling an anti-junta banner on the anniversary of the May 2014 coup last month.
The seven Khon Kaen Universty students, from the progressive student activist network Dao Din, were scheduled to report to police at 5 pm today to formally hear their charges, but announced this afternoon that they would not show up as an act of "civil disobedience." They were then joined by dozens of other social justice activists around Khon Kaen's Democracy Monument, making it one of the largest anti-junta rallies since the May 2014 coup.
Approximately 100 soldiers and police officers were dispatched to contain the demonstration. Brief scuffles broke out when security officers took away some of the protesters' banners, but no arrests were made.
To symbolize the junta's suspension of democracy, activists wrapped camouflage-patterned cloth around the city's Democracy Monument, and read a statement on behalf of Dao Din.
The statement called on the junta to repeal its ban on political activities, end "intimidation" and legal action against civilians, organize an election "immediately," and allow local communities to participate more in important issues.
Later the in the day, the students' lawyer asked police to postpone their surrender for seven more days. The request was approved.
The seven Dao Din students, who are facing up to one year in prison, are Chatupat Boonyapatraksa, Apiwat Suntararak, Payu Boonsopon, Panupong Srithananuwat, Suvicha Tipangkorn, Supachai Pukrongploy, and Wasant Satesit.
"If they still do not report themselves to the police in the second meeting, we will arrest them immediately," said Pol.Col. Noppadol Petchsutthi, commander of Mueang Khon Kaen Police Station.