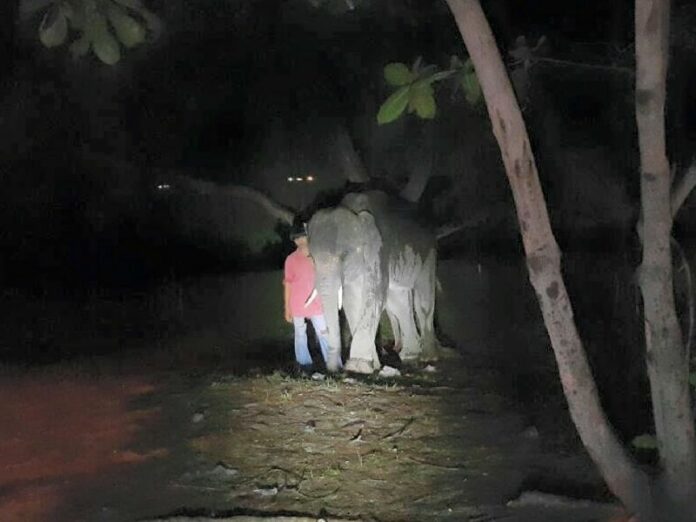 RAYONG — Two people have been hospitalized after they were attacked by an elephant that was being used to beg for money on a beach in eastern Thailand.
[UPDATE: Thai Man Dies After Being Struck by Elephant in Rayong]
Kusuma Laopan, 32, said she and two of her friends were sitting on a beach in Noen Phra district of Rayong province last night when a man led a 5-year-old male elephant over and asked the group to buy sugar cane for the animals.
After she and her friends refused, the elephant handler, known as a mahout, started to walk away, but one of the elephants suddenly snapped and charged at two of her friends, Kusuma said.
"I and other tourists in the area ran for our lives," Kusuma recounted. "Luckily, the mahout stepped in and stopped the elephant, so it stopped harming other people. The mahout then led the elephants away to the other side of the road."
The two victims have been identified as Weeranat Yoodee, 28, and Thongpoon Boonraksatrakul, 30. Weeranat was struck by the elephant's tusks in his chest, while Thongpoon suffered bruises on his right rib cage from the elephant's stomping, according to medical workers at Krungthep Rayong Hospital.
The two men are in stable condition, medical workers said.
Elephants are routinely brought by mahouts to beg for money from tourists in urban areas and tourist attractions around Thailand. The practice has been widely condemned by animal rights advocates, who say it is harmful for the elephants.
Under Thailand's Animal Cruelty Prevention Act, which was passed by the interim parliament in late 2014, those caught "causing unnecessary cruelty" to animals face a 40,000 baht fine and two years in prison. Thai authorities have said the law applies to people who bring elephants to beg in cities.
Police in Rayong said the mahout whose elephant attacked the tourists last night will be arrested and face legal action.
"Rayong province has strictly forbidden using elephants to wander and sell goods," said Pol.Lt.Col. Thawat Norsingha, an officer at Mueang Rayong Police Station. The mahout's elephants will be brought to a local animal shelter, he added.
The mahout, 21-year-old Witthawat Uanduangdee, told reporters that he brought two elephants from Buriram province four days ago. He said he was "confused" to see one of elephants attack tourists because both creatures have been very friendly to people.
"I think it might have been startled by car headlights and engine sounds," Witthawat said, adding that he now regrets his actions.