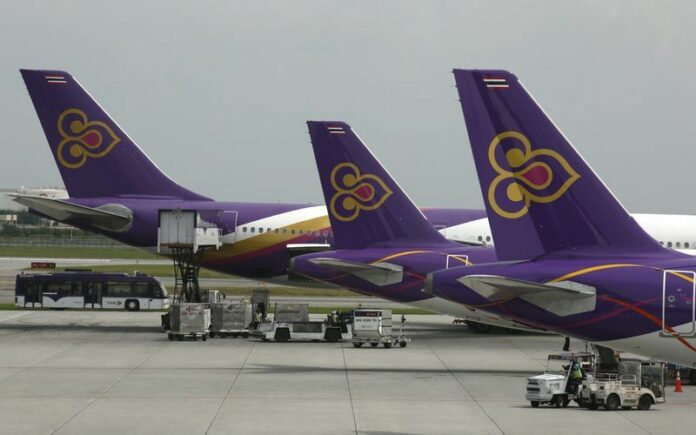 BANGKOK — Thailand's Transport Minister said he was surprised to see the United Nations' aviation agency announce a safety downgrade for Thailand-based airlines on its website yesterday.
Air Chief Marshal Prajin Janthong said he was informed by a Thai official that the International Civil Aviation Organization (ICAO) would not make a public announcement about the downgrade, which Thailand had been given 90 days to address.
ACM Prajin said his assistant, Arkom Termpittayapaisith, traveled to the ICAO headquarters in Canada to negotiate for more time to address the agency's safety concerns, and sent him a text message that the ICAO had agreed not to publish any information about Thailand's failure to meet the agency's standards.
"But yesterday the ICAO ended up putting red flag on Thailand on its website," ACM Prajin said yesterday. "That means the president of the ICAO did not do what he told Mr. Arkom. I am really confused why this happened. I have to admit that there was some miscommunication, but whether it was a miscommunication between me and Arkom, or between Arkom and the ICAO president, we are still checking about that."
He told reporters that he has already instructed the head of Thailand's Civil Aviation Department to get in touch with Arkom, who is still on a trip abroad, and clarify what was said at the meeting with the ICAO.
ACM Prajin also said a formal press conference will be held by the Ministry of Transport on 22 June to explain the red flag's implications for the Thai aviation industry.
"I have to admit I am very stressed about what happened, but we will continue to solve the problems," ACM Prajin told reporters.
Thailand is now one of 13 "safety deficient" countries that have been flagged by the ICAO. The others are Botswana, Uruguay, Angola, Djibouti, Eritrea, Georgia, Haiti, Kazakhstan, Lebanon, Malawi, Nepal, and Sierra Leone.
In its January audit, the ICAO found serious gaps in safety standards at some airlines operating from Thailand, including Thai AirAsia, Thai AirAsia X, Nok Air, and the state-owned Thai Airways. The agency cited concerns about a lack of personnel training and licensing, and other lapses in the oversight of airline operations.
In March the ICAO granted Thailand a 90-day reprieve to rectify the issues, but ACM Prajin admitted in April that Thailand would be unable to meet the deadline.
According to the Transport Minister, Thai authorities have spent the past three months working hard to improve aviation safety measures, such as re-organizing the bureaucratic structure, transferring directors, and compiling new manuals to oversee airlines' licenses. State officials have also traveled around the globe in an effort to convince foreign aviation authorities not to ban Thai airlines from using airports in their respective countries.
"In the past, I have created understanding with many countries, but it's impossible to talk to 50 countries in a single month," ACM Prajin said. "We have to wait and see results from this day first, because now that ICAO has already announced [the red flag], it's pointless to travel to talk to any more nations."
The air chief marshal added that he has already informed junta chairman and Prime Minister Prayuth Chan-ocha about the incident, but the junta leader has not yet personally shared his opinion on the matter.