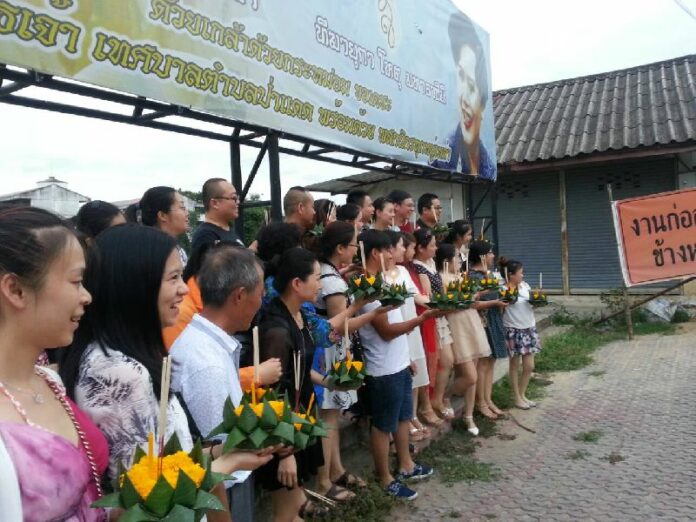 CHIANG MAI — A travel company for Chinese tourists in the northern Thai city of Chiang Mai is celebrating Loy Kratong – the Thai floating lantern festival – five months early this year.
The company held a mock Loy Kratong festival for around 30 Chinese tourists on the bank of Ping River near Pa Daed Bridge yesterday evening, attracting curious attention from some Chiang Mai residents in the area, as Loy Kratong is normally held on a full moon in November. The tourists left the area on a bus after the ceremony was over.
Photos of the incident also went viral on social media, with some commentators praising the company for teaching Thai culture to the tourists, and others expressing concern that the river will be polluted by kratong (floating lanterns made of banana leafs) if too many Chinese tourists follow the example.
Wallop Namwongprom, a member of the Cultural Committee of Chiang Mai Province, said he has seen photos of the Loy Kratong festival and believes it is a "gimmick" by the tour company to draw tourists.
"Releasing hot air lanterns is forbidden, so the company may have resorted to only floating the kratong, so that tourists can engage in Thai traditions and take photos," Wallop said. "But I think it looks rather strange, because Loy Kratong actually takes place during the flood season, when water is reaching up to the river bank, but they held Loy Kratong while the Ping River is still very dry. But, of course, they can do that, for the sake of tourism, to help tourists learn about [Thai traditions]."
He added, "It's better than letting Chinese tourists climb ancient walls, defecate in the city moat, spit on the street, or blow their noses in public. It's good that they are engaging in this Lanna [northern] tradition."
Chiang Mai is a popular destination for Chinese tourists, some of whom arrive in the city by driving from China by car. Official records say 4.5 million Chinese tourists visited Thailand in 2014 – more than any other nation – bringing in more than 190 billion baht in revenue for the Kingdom.
However, the influx of Chinese tourists has also led to tension between native Thais and the Chinese visitors, who some locals have accused of behaving rudely and lacking cultural sensitivity. Last year Thailand's tourism agency printed pamphlets for Chinese visitors explaining – in Mandarin – proper etiquette for visiting museums and temples, as well as driving and queueing.
Earlier this month MasterCard's chief economist Yuwa Hedrick-Wong told Reuters that some countries in Asia are too "dependent" on Chinese tourists, and urged them to diversify their sources of visitors.