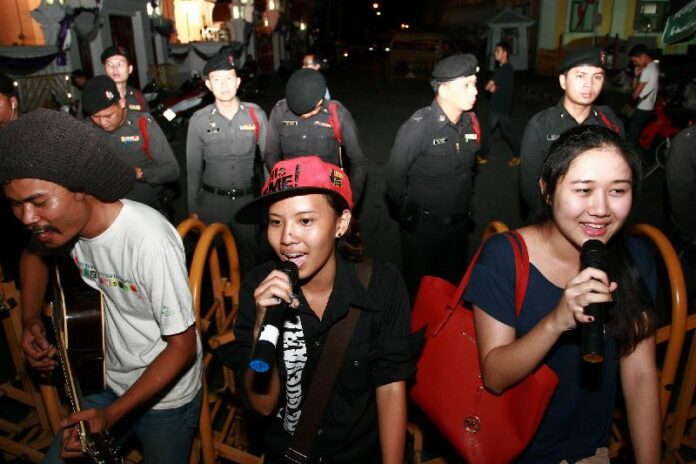 BANGKOK — Fourteen young pro-democracy activists charged with sedition have been imprisoned while they await trial for their recent demonstration against the military junta in Bangkok.
The thirteen men and one woman are being held at Bangkok Remand Prison and Bangkok Central Women Prison, respectively. Authorities can detain them for up to 12 days, which can be extended seven times, before they are formally tried in court.
The fourteen, eleven of whom are university students, have been charged with violating the junta's ban on political gatherings, and inciting "unrest and disaffection among the people in a manner likely to cause disturbances in the country."
Poonsuk Poonsukcharoen, the group's legal representative, said she believes the charges – which carry a maximum penalty of seven years in prison – were filed over the peaceful pro-democracy demonstration the group held at Ratchadamnoen Avenue on 25 June.
They are now facing trial in martial court, where military officers serve as judges and appeals are not permitted.
Police arrested the group at around 5pm yesterday at a hostel in Bangkok and took them to Phra Ratchawang Police Station for several hours of interrogation before bringing them to martial court, which normally closes at 6pm on Fridays, but stayed open until midnight yesterday to process their case.
Around 50 people gathered in front of the court to light candles, make speeches, and sing pro-democracy songs in support of the group.
At around 20 minutes past midnight the court rejected the lawyers' request to release the students, and ordered the fourteen to be jailed. Police vans were seen taking the activists away to their prisons.
The group's lawyer told reporters last night that the activists expressed their intention not to post bail because they refused to acknowledge the military court's legitimacy to try them, and insisted on being tried by a civilian court instead. However, Poonsuk and other lawyers still attempted to contest the court's order to have them remanded.
"All of the suspects were in good spirits throughout their time inside the interrogation room," she said.
The fourteen activists are Rangsiman Rome, Chonticha Chaeng-rew, Ratthapol Surasopon, Songtham Kaewpanpruek, Pornchai Yuanyee, Pakorn Arrekul, Abhisit Sapnaphana, Jaturapak Boonpatararaksa, Apiwat Suntararak, Payu Bunsophon, Panupong Srithananuwat, Suwitcha Thipangkorn, Supachai Pukrongploy, and Wasan Sethsitthi.
The latter seven are members of Dao Din, a social justice group formed by law students at Khon Kaen University.
All fourteen activists are also facing charges of violating the junta's orders for staging events on the one-year anniversary of the May 2014 coup in Bangkok and Khon Kaen. Police had ordered the activists to surrender by 19 June, but the fourteen refused to do so in what they referred to as an act of "civil disobedience."
The arrests highlight the ongoing suppression of civil rights in Thailand by the ruling military junta that seized power from an elected government in May 2014.
Today, Human Rights Watch released a statement calling for an immediate and unconditional release of the fourteen activists. The US-based rights group also called upon the military junta to stop trying civilians in martial courts.
"Thailand's junta should immediately stop arresting and prosecuting student activists," said Brad Adams, Asia director at Human Rights Watch. "While insisting they aren't dictators, the Thai generals have used the military courts as a central feature of their crackdown against peaceful criticism and political dissent."
Yesterday, Human Rights Watch itself became a target of censorship by Thailand's military government when police canceled the group's scheduled press conference on human rights abuses in neighboring Vietnam. According to the order delivered by police, Thai authorities were concerned that the event could affect relations between Thailand and Vietnam.
Speaking to reporters today, Gen. Udomdet Sitabutr, commander of the Thai army, suggested that the fourteen activists pursue other activities, like sports and academic competitions, instead of protesting.
"I would like to see these students, who are like young siblings to me, try to do things that help develop the country and improve its reputation, instead of disrupting peace and order," Gen. Udomdet said. "I'd like to beg them, please don't do it. My plea extends to groups that still support this movement, which are not many in number. Please stop. Don't do things like this."
For comments, or corrections to this article please contact:[email protected]
You can also find Khaosod English on Twitter and Facebook
http://twitter.com/KhaosodEnglish
http://www.facebook.com/KhaosodEnglish