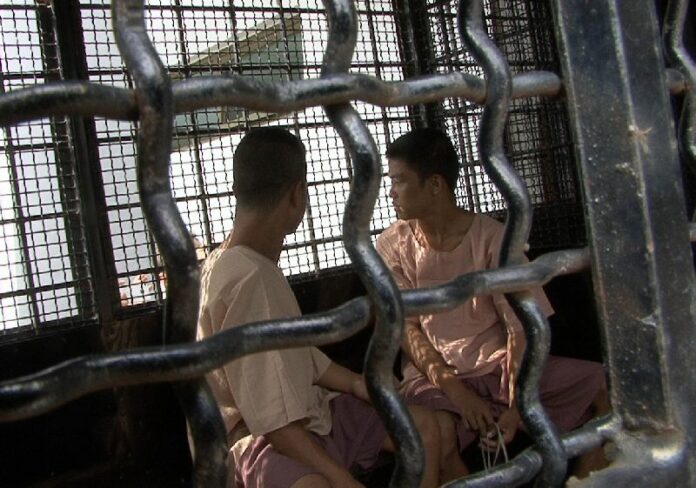 SURAT THANI — The two Burmese men accused of brutally murdering two British tourists on the island of Koh Tao last year insisted on their innocence in letters written to the public on the first day of their highly anticipated trial.
Zaw Lin and Wai Phyo, both 22, have been charged with murder, rape, and theft over the deaths of British travelers David Miller, 24, and Hannah Witheridge, 23, on Haat Sai Ri beach in the early morning of 15 September 2014.
According to police, the two suspects raped Witheridge, killed her and Miller, and stole one of their mobile phones. They have been held in prison since their arrest, and face the death penalty if convicted.
The trial began today with a cross-examination of four witnesses, including a policeman who was among the first to find the bodies, and a doctor who reportedly examined the victims soon after they were found.
Outside of the courtroom, a representative from the Migrant Worker Rights Network (MWRN), one of the NGOs assisting the two Burmese suspects, read a letter written in Burmese by Wai Phyo in which he described his year in prison as "torture."
"I thank people around the world for donating their money to help us fight this case," the letter said. "I insist that I did not kill or rape the British tourists, and I am not involved in what happened. So, I very much hope that I will have justice. Putting me in prison even though I did not do anything wrong is torture, and it is restriction of my freedom. Right now I miss my parents in Myanmar a lot. I thank everyone who has been helping my parents."
According to MWRN president Ko Sein Htay
, a separate letter written by Zaw Lin said:
"I am not involved in this case or what has happened. I would like to thank those who support us and care for us. I very much hope that I will have justice. God knows what the truth is. I hope I will be freed soon."

Letters written in Burmese by Zaw Lin and Wai Phyo and read to reporters on the first day of their trial, 8 July 2015.
The two men initially confessed to the crime after they were arrested and interrogated by police without a lawyer in October 2014, but later retracted their confessions and accused police of torture. Rights groups also expressed concern that the pair was used as scapegoats after a clumsy police investigation appeared to reach a dead end. Police have vehemently denied both allegations, and insisted that they have convincing forensic evidence that implicates the two suspects.
Speaking outside the court today, Nakhon Chomphuchat, the suspects' lawyer, said his legal team believes there is a "disparity" between the evidence the prosecutors are presenting in the court and the evidence that his team has obtained from the UK. He declined to provide further details.
"I aim to bring fairness to all sides, and to reveal the truth," Nakhon said, adding that he has full confidence in the Thai court's ability to oversee a fair trial in this case.
At the trial today, a representative from the British Embassy in Thailand distributed statements written by relatives of Miller and Witheridge.
"Over the coming weeks we hope to gain a better understanding as to how such a wonderful young man lost his life in such idyllic surroundings in such a horrible way," the statement from Miller's family said.
Witheridge's relatives wrote, "Hannah was a beautiful person, inside and out, she brought a room alive just being there. She was fun, honest and loved life. Her bright future was brutally ended, leaving those who loved her broken with no answers. We ask that the media treat Hannah with dignity in their reporting of the trial."
CORRECTION: The defendants' lawyer, Nakhon Chomphuchat, told reporters his team acquired new evidence from the United Kingdom, but did not specify that the evidence was provided by British police, as was originally reported.