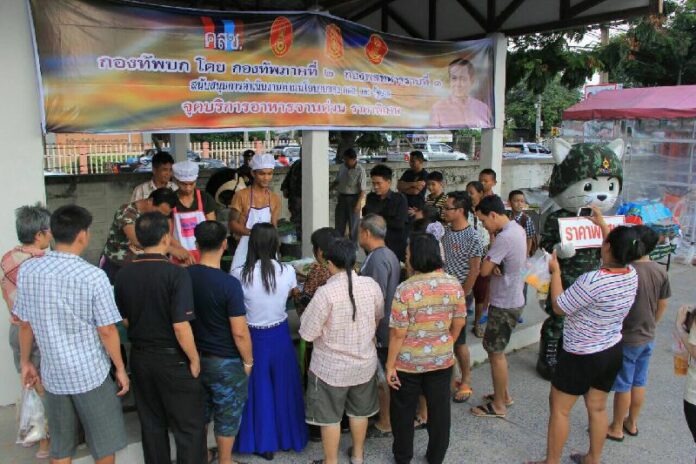 BANGKOK — The Royal Thai Army has announced that some military bases are now offering low-cost food to the public.
Col. Sirichan Ngathong, an army spokesperson, said today that army bases in Nakhon Ratchasima, Lopburi, Prachinburi, Sa Kaeo, and Chonburi have already begun selling freshly-cooked meals to local communities, while other military camps around the country are expected to join the program soon.
"It is an option for people to buy food at a special price, which is cheaper than the market price," Col. Sirichan said, adding that each dish costs around 10 – 20 baht. Staple food dishes in Thailand normally cost 30 – 40 baht per serving.
According to Col. Sirichan, the army bases are offering noodle dishes, basil fried rice, curry rice, fried rice with pork, and omelettes with rice.
"At this moment, regional armies are urgently expanding this project widely, in order to adequately service the people," she told reporters, adding that the army is not seeking any profit from the program. The army is also considering buying local produce to help farmers, Col. Sirichan said.
Since then-army chief Gen. Prayuth Chan-ocha seized power from an elected government in May 2014, soldiers have been deployed to take up additional roles as law enforcement officials and civil servants. For example, soldiers are routinely seen assisting police with arrests and directing traffic.
Shortly after the the military takeover, the junta staged several "Happiness Fairs" to boost public support for the coup d'etat. The festivals featured free haircuts, medical checkups, food, concerts, petting zoos, and other activities.
In tandem with its happiness campaign, the military regime has also undertaken a widespread effort to muzzle any opposition to its rule. It has banned political activities and protests, censored the media, and sent dissidents to stand trial in military courts.
For comments, or corrections to this article please contact: [email protected]