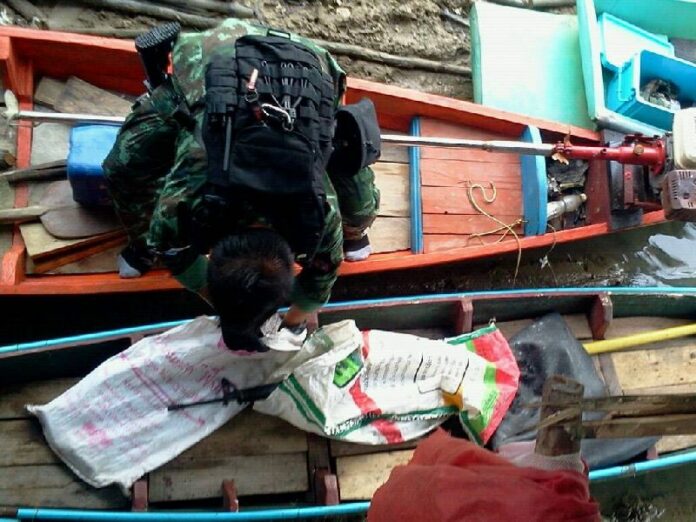 PATTANI — A suspected militant was arrested by Thai authorities in a raid on a house in the southern border province of Pattani early this morning.
Soldiers and policemen surrounded the riverside house in Nong Chik district at around 3am after learning that a Muslim insurgent named Seri Wamamu was hiding inside, police said.
According to police, people inside the house opened fire as the officers approached, prompting the raid team to shoot back. After surrounding the house for several hours, the team entered at 7am to find three assault rifles and a 51-year-old man named Sama-ae Salae. Sama-ae was arrested and sent to an army camp for questioning.
Police said they saw two other gunmen jump into the river behind the house and swim away from the scene. No injuries have been reported.
Military divers from a nearby army base have been dispatched to search for the two suspected militants in the area.
One of the M-16 rifles found inside the house was reported stolen during a gun battle between soldiers and separatists in Pattani province on 28 April 2004, while the identification numbers of the two other weapons were obscured, police said.
More than 80,000 security officers are stationed in the region, known as the Deep South, to quell the protracted insurgency waged by Islamic separatists seeking to secede the provinces of Pattani, Yala, and Narathiwat, which were annexed by Thailand in the early 20th century.
At least 6,000 people – mostly civilians – have been killed since the latest wave of secessionist violence broke out in January 2004, according to data compiled by human rights groups.
Although a majority of the victims have been killed in bombings and shootings staged by suspected insurgents, Thai authorities have also been criticized for committing excessive violence and human rights abuses in the region, which has been governed under martial law for more than nine years.
In April, security officers in Pattani shot and killed four men who an independent committee later determined were unrelated to the insurgency. Thai police initially told the media the men were active, armed insurgents.
Yesterday, a 27-year-old ranger stationed in Narathiwat was assassinated while he was riding a motorcycle, police said. Police said the believe local insurgents were behind the shooting.