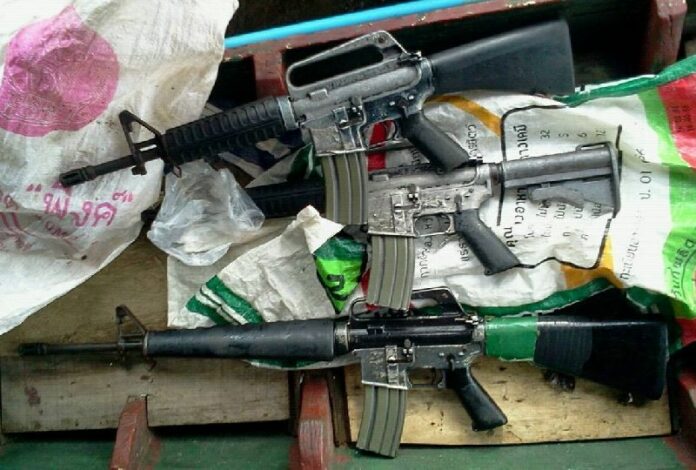 PATTANI — Thai authorities say they have found the bodies of two suspected separatists who escaped a raid conducted by police and soldiers in Pattani province yesterday.
A team of police and soldiers raided a riverside house in Nong Chik district early yesterday morning. Following a gunfight, the officers entered the home and arrested one man, but were reportedly unable to catch two others who fled the scene.
Local residents alerted police that evening that two dead bodies were caught in a fisherman's net in the river, said Pol.Col. Chamlong Suwalak, the superintendent of Nong Chik Police Station.
The deceased were identified as Muhammad Seeteelah, 35, and Muhammad Posi Samah, 36. Both bodies bore gunshot wounds.
According to authorities, both Muhammad and Muhammad Posi were wanted for assisting the ongoing insurgency in the Muslim-majority region, known as the Deep South. The men were allegedly behind several deadly attacks on Buddhist civilians, including a fatal shooting of a public school teacher in January 2008.
A statement from Thailand's Internal Security Operations Command (ISOC) said that Muhammad was wanted on four arrest warrants, and Muhammad Posi, allegedly a high-ranking operative and bomb-maker, was wanted on one arrest warrant.
Pol.Col. Chamlong said he believes the two men were injured in the gunfight that preceded yesterday's raid, and attempted to swim away in the river, but later succumbed to their wounds. He said an official autopsy will not be possible, because their relatives have already sent the bodies for burial at a local mosque in accordance with Islamic rituals.
The man who was arrested in the raid yesterday, Sama-ae Salae, 51, is being interrogated "in accordance with the laws," police said.
Thailand's Deep South has been governed under martial law – which grants security forces sweeping powers to detain and arrest suspects without warrants – for more than nine years.
The three rifles discovered in the raid yesterday are being tested for any evidence that links them to previous crimes committed in the three southern border provinces, police said.
Former insurgent stressed economic development
On the same day, Sama-ae Thanam, a former leader of one a separatist groups who was recently released from prison, applied for a national ID Card at the Panare District Office.
The 63-year-old was the commander of the armed wing of the Patani United Liberation Organization (PULO) until he was arrested and put in jail in 1997 for terrorism charges. Sama-ae, also known as Ismael Gaddafi, was pardoned by the government on 17 July after after spending 18 years in prison.
He was released as part of a government program to reward prisoners who display good behavior and encourage former militants to help broker peace in the region.
Taekingsak Yoksiri, deputy governor of Pattani province, said he visited the District Office today to show his support for Sama-ae, who is required to report to authorities every several months for the next ten years, as a condition of his pardon.
Sama-ae told reporters he is glad to be re-united with his family and friends. He also said he would like to encourage economic development in the three restive border provinces of Pattani, Yala, and Narathiwat.
"Development is an important issue that needs to be stressed" Sama-ae said. "As for my release from prison, right now many [separatist] movement groups have already heard about it from the news. Everyone is happy and satisfied that I am freed. But there has been no initiative about a [peace] discussion, because I have been out of prison for only three days. It may take some time to find a way to solve the problems. But this is a good sign that can build confidence and lead to a peace dialogue, to a certain extent. Without confidence and trust, it will be hard to turn the idea of peace dialogue into a reality."
The Deep Sout has been a hotbed of insurgent violence since the region was annexed by Thailand in the early 20th century. More than 6,000 people, mostly civilians, have died since the most recent wave of secessionist violence broke out in January 2004.