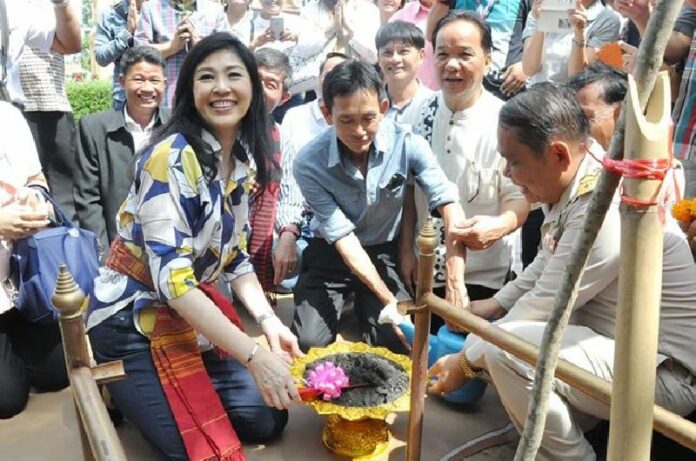 BANGKOK — Thailand's ruling military junta has dismissed claims that former Prime Minister Yingluck Shinawatra has been barred from attending the birthday of her brother Thaksin Shinawatra, another former PM who is currently living in a self-imposed exile to avoid a corruption conviction.
Many supporters of Yingluck, known as the Redshirts, have been posting on social media that Yingluck and other Pheu Thai Party politicians have been banned from leaving the country for Thaksin's birthday celebration. In spite of his exile, Thaksin, who will turn 66 on 26 July, remains extremely influential among the Redshirts and his political dynasty in Thailand.
Speaking to reporters today, the deputy sec-gen of the military junta, which toppled Yingluck's government last May, dismissed the claims that the former PM has been banned from traveling abroad.
According to Gen. Chatchalerm Chalermsuk, Yingluck is free to leave the country as long as her request is approved by the court; she is currently facing a lawsuit in supreme court over alleged corruption in her government's rice subsidy program.
"I haven't heard anyone in the NCPO talk about this," Gen. Chatchalerm said today, using an acronym for the junta's formal title, the National Council for Peace and Order (NCPO)."Is this a deliberate spreading of a rumor?"
He continued, "The court ordered [Yingluck] not to leave the country. It's not an NCPO order. As for leaders and members of Pheu Thai Party, they aren't being prohibited from leaving the country by the court. They can go abroad as usual by requesting permissions from the NCPO."
He added, "The NCPO has approved a majority of requests. We let almost all of them to travel. There are only a few requests that we reject."
According to Pheu Thai MP Wattana Muangsuk, junta officials denied his request to leave the country earlier this month because he has been criticizing the regime in interviews with the media. The junta has not commented on the matter.

Thammasat University law lecturer Worachet Pakeerut at martial court on 21 July 2015.
Today, the NCPO and military court in Bangkok approved Thammasat University law lecturer Worachet Pakeerut's request to travel to Germany between 27 July and 7 August. Worachet is facing a trial in martial court for failing to comply with the NCPO's summons order for "attitude adjustment" in June 2014; he was outside Thailand at the time.
Following the May 2014 coup, the junta summoned hundreds of politicians and academics for up to seven days of detention in army camps in order to "cool off" from the period of protracted unrest. The majority were released on the conditions that they not participate in political activities, and seek permission from the junta before leaving the country.
Speaking to reporters this morning, Worachet said he is traveling to Germany to research about German judicial systems and look for new laws textbooks. Worachet added that he is required to report to the military court within three days after he returns to Thailand.