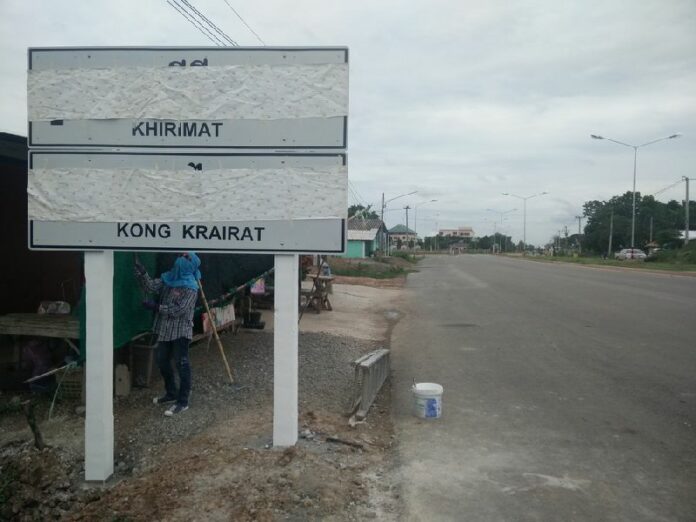 SUKHOTHAI — Officials in Sukhothai have ordered new batch of road signs to replace six signs that misspelled the names of two districts in the northern province.
Photos of the misspelled signs began circulating on social media over the weekend, showing inaccurate spellings of Kirimat (คีรีมาศ) and Kong Krailat (กงไกรลาศ) districts. The final letters of the two names were incorrectly written with ส instead of ศ.

The misspelled signs of two districts in Sukhothai province, 27 July 2015.
The mistake drew ridicule and criticism from social media users.
"This mistake is unforgivable," wrote a Facebook user named Noonoot Yodphet who posted the photos. "How come they are so negligent that they haven't checked these? It says so much about those responsible."
Sukhotahi's Governor, Piti Kaewsalabsi, told Khaosod that he has been informed by officials that the road signs were recently installed by private contractors.
According to Jatuporn Ruenjutibodhiban, the manager of the private company responsible for the signs, his staff spotted the mistakes before they surfaced on social media, and were already in process of fixing the signs.
White tape has been placed over the misspelled district names while the removal process is ongoing.