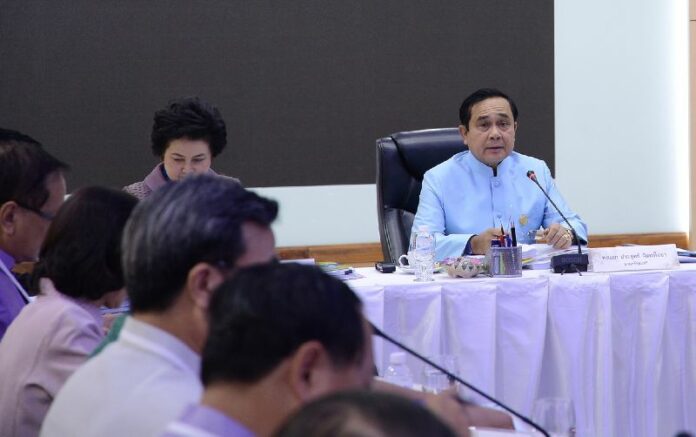 BANGKOK — Junta chairman Gen. Prayuth Chan-ocha has asked Thais to stop blaming the United States government for awarding Thailand with a low ranking in its annual report on human trafficking around the globe.
In the 2015 Trafficking in Person (TIP) report published this week, the US State Department retained Thailand in the lowest 'Tier 3' category, citing the government's failure to take significant steps to eradicate trafficking. Thailand was first downgraded to Tier 3 in last year's report, which came out shortly after the army seized power in a coup d'etat.
Responding to the report today, Gen. Prayuth said that Thailand should focus on improving its record instead of shifting blame to the US government, as some Thai officials and citizens have done.
"I think it is best if we don't blame them at all. Don't blame them and say they did it because of politics, or whatever. It won't do us any good," Gen. Prayuth told reporters after a meeting at the Ministry of Industry today.
"Haven't you noticed what I have said to you? I told you we have to accept it. These things are wrong because we have done wrong. [The US] already set the rules, but in the past we have not fixed our problems. Now that they want to punish us like this, they can punish us. We have to do our best."
Gen. Prayuth continued, "No matter what, we will still be friends in the future. If we pick a fight with them, it would only be messier. Instead of giving us something, they won't give us anything at all. We can't force them. We are not a superpower. And if we pick a fight them, we won't ever be a superpower, no way. We can only ask them to understand us."
The general's remarks contrasted with the reactions of other officials and conservative Thais who have spoken to the media in recent days.
For example, Don Pramudwinai, a spokesperson for Thailand's Ministry of Foreign Affairs, said yesterday that the US government should consider "what it feels like for Thai people" to know that their nation has been placed in the same category as Iran and North Korea. "Is that appropriate?" he asked.
In a separate press conference, government spokesman Maj.Gen. Sansern Kaewkamnerd said the US has a responsibility to explain its assessment of Thailand to the world.
"They have to confirm that this is an action based on facts without any hidden agenda," Maj.Gen. Sansern said.
A number of critics have also questioned whether Thailand was given a poor rank because of its hesitation to join the Trans-Pacific Partnership (TPP), a US-led free trade deal, or because the country is still being ruled by Gen. Prayuth, who led the May 2014 coup.
"I am suspicious about whether this report by the US is truly based on principles of human rights, or it's all just a political game and international interest," Suriyasai Katasila, a conservative Yellowshirt leader wrote on his Facebook account. "Or is it because Thai Ministry of Foreign Affairs doesn't know how to lobby? That's why we are in Tier 3 with Russia, Iran, North Korea, Libya, Syria, and Sudan etc. This is even worse than Burma, Laos, and Cambodia … It made me wonder whether this report has a hidden prejudice toward the coup d'etat. Just because this government is from coup d'etat, are they generalizing that we are all evil?"
When a reporter asked Gen. Prayuth whether he thinks Thailand's refusal to enter the TPP plays a role in the trafficking report, he replied, "What will we get in return if we are a member? Do you know what we will get and what we will lose? Because if we are a member, we will be pressured in many ways. The previous government expressed its interest in membership, but then they studied it, and they realized there would be problems about medical patents and other things. It would make Thai people lose many opportunities. That is why we put it on hold. It's not that we disagree with it. It's just that we have to see what damages it will cause to Thai people and Thailand."
Gen. Prayuth also stressed that Thailand has been aggressively pursuing legal action against human traffickers, such as a recent crackdown in southern Thailand that led to the indictment of at least 72 people on trafficking charges. The crackdown was not considered in the TIP report because it occured after the March 2015 deadline.
"We have arrested and prosecuted over a hundred people. I want you to see other countries that have been upgraded from Tier 3, how legal action they have taken. You all know the answer," Gen. Prayuth told reporters.
Malaysia, which is common destination for people who are smuggled and trafficked through Thailand, was upgraded to Tier 2 this year to the chagrin of rights activists and anti-trafficking organizations, who say the country's minimal efforts to combat trafficking do not warrant an upgrade. According to the TIP report, Thailand prosecuted 155 traffickers and convicted 151 in 2014, whereas Malaysia, who is a member of the Trans-Pacific trade deal, prosecuted 54 and convicted 3.
Gen. Prayuth added, "Please don't generalize that all this is because of my government. Let me ask you, if I was not in the government, wouldn't things be worse? Because these problems have never been fixed. Today, the government is fixing the problem, but because we couldn't get upgraded from Tier 3 you blame me again. You say it is because my government didn't come from election. But did the elected government ever do these things? That's why the problem has lasted until today."