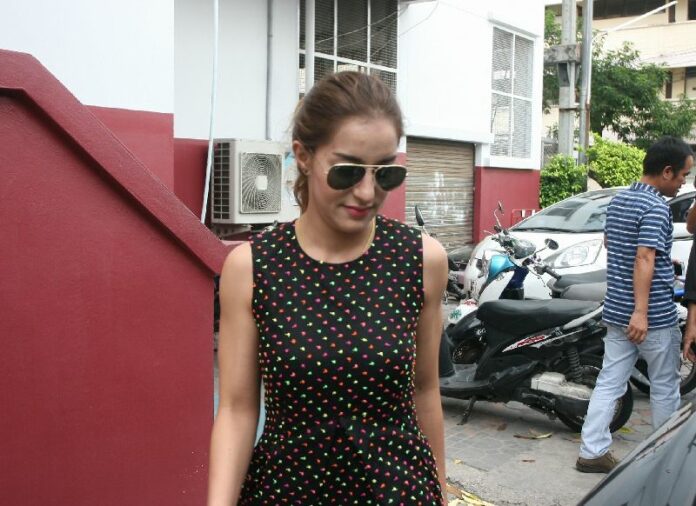 BANGKOK — A British-Thai actress who killed a Bangkok police officer with her Mercedes walked out of talks with his family on Saturday, refusing to pay the amount of restitution asked.
Two months after tearfully telling the public she was "prepared to help the family … in any way," Anna Hambawaris, better known as Anna Reese, said she would not pay the 6.2 million baht asked by the family of Police Lt. Naphadol Wongbundit, according to an officer involved with the case.
"The settlement has not been reached," Anna said as she walked out of the four-hour meeting at the Prawet Police Station. "There will be further meetings."
Under the proposed terms, Naphadol's wife, Chanthana Wongbundit, asked Anna to pay 6.2 million baht, 1.2 million baht of which Anna's insurance had already agreed to cover, according to Police Lt. Col. Pasit Saichonsak. For her part, Anna said she would not pay the other 5 million baht and instead offered 2 million baht.
"Since they cannot agree on the compensation, we have arranged them to meet again on 22 August at 1 pm" Pasit said.
Chantana said she believed 6.2 million baht was "reasonable," factoring in her husband's expected future earnings on the police force, to support her two young children and parents.
"Ms. Anna says she will only pay 2 million baht, which I think is unreasonable," Chanthana said.
On June 26 Anna, who has had roles in small films such as "Legend of the Tsunami Warrior" and "Brown Sugar 2," slammed her Mercedes into the rear end of Naphadol's police car, which was parked alongside a road in Bangkok's Prawet district, killing the 44-year-old cop.
Anna, who only suffered minor injuries, refused to answer police questions, saying she was "too traumatized," and went home without submitting to any alcohol or drug tests.
After getting some rest, she reported to police about 10 hours later. She apologized and immediately began talking about her desire to study Buddhist teachings, and at Naphadol's funeral the next week, she claimed his ghost had forgiven her.
Anna was quick to drape herself in devoutness – she next invited the press corps to see her ordained for a seven-day stint as a nun.
The case struck a chord among those who see a two-tier justice system in Thailand that goes easy on the privileged.
It recalled Red Bull-heir Vorayuth "Boss" Yoovidhya, who investigators said had cocaine in his system when he slammed his Ferrari into a Thonglor police officer at 200 kph in 2012. He then headed home, dragging the body of Sgt. Maj. Wichian Klanprasert, 48, under the car. He has avoided arrest ever since in a case that to many is among the worst examples of privilege and injustice.
Asked whether criminal charges would move forward against Anna, the officer supervising the case today told Khaosod English that was up to his commander and declined to answer any questions about the case.
Related stories:
Actress Charged With Deadly Car Crash Says Victim's Ghost Forgave Her
To reach us about this article or another matter, please contact us by e-mail at: [email protected].