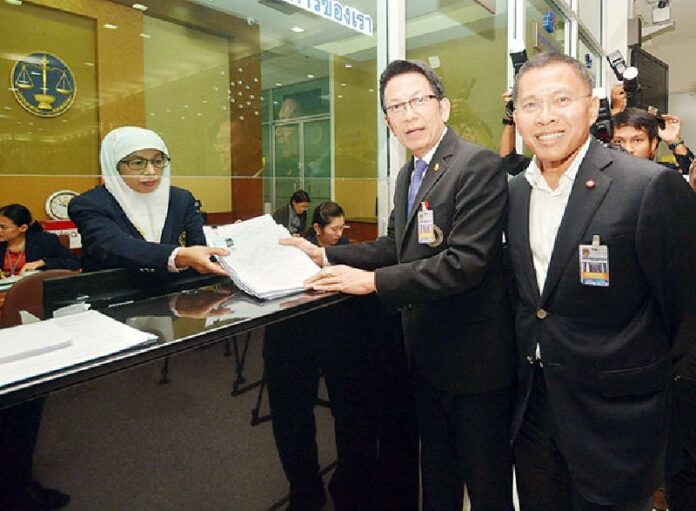 BANGKOK — A top politician of the Pheu Thai Party today asked a court to overturn the junta's ban on his overseas trips.
Former Pheu Thai MP Wattana Muangsuk, who was among more than 100 people prohibited from leaving Thailand by the military junta after it toppled the Pheu Thai-led government in May 2014, filed suit today at the Upper Administrative Court in Bangkok today to repeal the restriction.
"They may be afraid that I and other people will engage in malicious gathering in our overseas trip, but let me insist that if I were to really do that, I would not have formally asked for a permission in the first place," Wattana said.
Most of those banned after the coup were Pheu Thai politicians such as Wattana, who are required to ask for permission from the regime if they wish to travel abroad. The junta rejected Wattana's request in July without giving a specific rationale for the decision.
In July, Wattana filed a similar lawsuit the Central Administrative Court, which was dismissed by the judges.
"I want the upper court to reconsider the judgment of the Central Administrative Court, which declined to hear my case," Wattana told reporters this morning. "I also want the chairman of the [junta] to reconsider the travel ban he has placed, because I think the order does not benefit anyone."
The politician also called upon the junta, which is known formally as the National Council for Peace and Order, to quickly organize a new election and return power to the people.
Wattana argued in his legal brief that the right to travel abroad is protected under Section 4 of the interim constitution, which was enacted by the military junta in the wake of the coup. The brief went on to warn that if the court again declines to hear his case, it would mean junta chairman Prayuth Chan-ocha has "a power that exceeds the constitution."
The military junta has not yet publicly responded to today's lawsuit.
Related stories:
Junta Bars Pheu Thai Politician From Leaving Country
To reach us about this article or another matter, please contact us by e-mail at: [email protected].