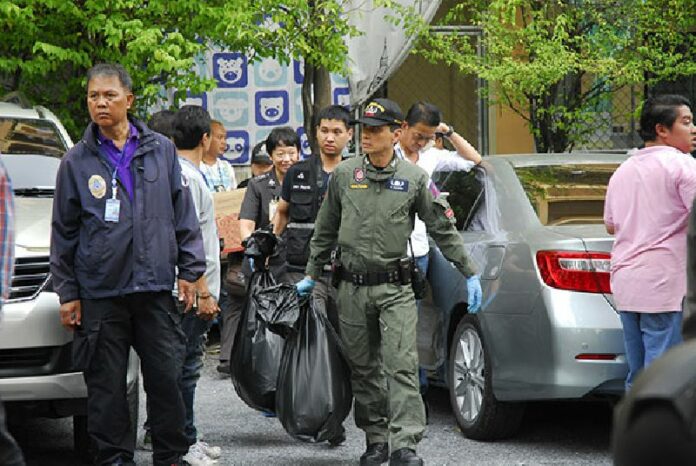 BANGKOK — Investigators are hunting for more suspects in the bombing of the Erawan Shrine while a foreign suspect was being questioned by investigators today at a military base.
Authorities said they are looking for suspects who have "been in Thailand for years" and are connected with a man identified in what is likely a fake Turkish passport as 28-year-old Adem Karadag, a suspect charged with possessing explosives after he was taken into custody in the eastern outskirts of the capital yesterday.
"Our intelligence also has information about who they are, how they arrived, and what they did this for. These people belong to a network of lawbreakers," said outgoing police chief Gen. Somyot Pumpanmuang. "As for details, I'd prefer not to disclose them now, because it may make our work difficult, and it will alert other perpetrators in the same network."
Numerous irregularities can be seen in this photo taken of the suspect's passport.
Somyot said yesterday's raid followed a joint investigation by the military and police. They were targeting five rooms inside the Nong Chok district apartment building. Inside one of them, police said they found the suspect along with detonators, ball bearings, explosives and metal pipes similar to materials used in the 17-Aug. bombing.
"We found that there is a connection between him and the bombings at Ratchaprasong and Sathorn pier," police spokesman Lt. Gen. Prawuth Thawornsiri said.
Top police brass were quick to dismiss any link to international terror.
"He is a foreigner, but it's unlikely that he belongs to any international terrorist group," Somyot said. "His motive was personal vengeance. He felt vengeful on behalf of his friends. It's not international terrorism."
It was the first arrest in the case, coming 12 days after a powerful bomb killed 20 people, mostly foreign tourists, and injured more than 150 others, some of whom remain in critical condition.
---
Bangkok Shrine Bombing: Those Who Died
---
Somyot said it was "unlikely" the suspect was motivated over Thailand's forcible deportation of more than 100 Uighurs back to China, a widely criticized move that resulted in angry Turkish nationalists storming the Thai consulate in Istanbul, Turkey, last month.
"Lets just say he is angry and bitter on behalf of his friends and his family. Please don't make me go deeper into details," Somyot said. "But I can say it's not international terrorism."
The suspect and alleged accomplices "have been in Thailand for years now," he added.
Saturday's arrest was a dramatic turnaround for what had seemed an increasingly moribund investigation.
On Thursday an arrest warrant was issued for an unidentified "Asian" man thought to have dropped a bomb into water from a footbridge near the Sathorn Pier minutes after the blast at the Erawan Shrine. Something exploded there the next afternoon, injuring no one.
Somyot reacted angrily when a reporter asked if the arrested man was a scapegoat.
"How can you ask that? What news agency are you from?" he said. "Your question is not constructive at all. Are you Thai? Get out of here!"
Related stories:
Floundering Bomb Investigation Deepens Doubts About Competency