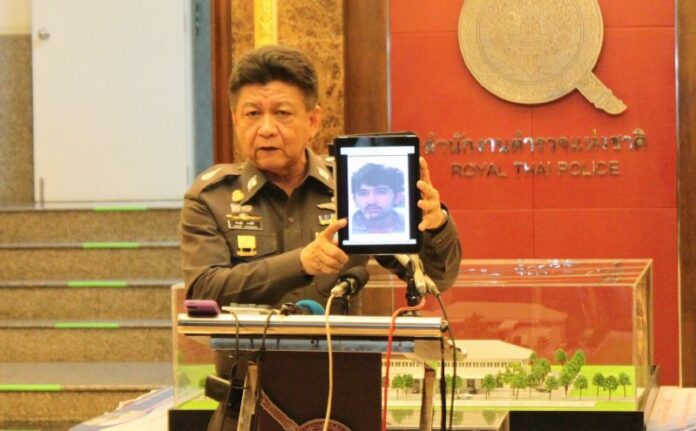 BANGKOK — A ninth arrest warrant issued this afternoon dispelled uncertainty whether a man currently in military custody is a Uighur from China's Xinjiang province.
A Bangkok district court approved a warrant today for a Chinese national named Yusufu Mieraili, seeming to settle speculation over the identity of a man taken into Thai custody Tuesday near the border with Cambodia.
That matched a passport image circulated by an unnamed military source moments after news of the arrest spread Tuesday. The man, the second arrested in connection to the 17 Aug. attack which killed 20 people, was taken into Thai custody along the border with Cambodia.
Image sent to media on Tuesday from a military source of the passport.
At a news conference this evening, police spokesman Lt. Gen. Prawuth Thawornsiri showed a photograph of the suspect taken when he was first arrested at the border. In the photograph, he does not wear sunglasses and bears a striking resemblance to the man shown in the passport, with messier hair.
Prawuth also stepped back from his hunch expressed Tuesday after the arrest as to the man's identity.
"Based on police information, I think this man is not the yellow-shirt man who placed the bomb at the crime scene at Ratchaprasong intersection. But his duty is likely involved in the explosive materials of this network."
Warrant No. J813/2558 was issued by a court in Bangkok's Min Buri district, which has jurisdiction over neighboring Nong Chok district. Police said his fingerprints were found on bomb-making materials found in a room at the Poon Anan Apartment in Nong Chok. Mieraili is charged with possessing explosives.
Min Buri is where a raid of an apartment building discovered extensive bomb-making materials in one of several rooms thought to have been used by those behind the shrine blast.
---
Turkey Responds to Alleged Bombing Links as 3rd Arrest Reported
---
Thai officials have played down connections between Turkey and China, although a preponderance of the investigative leads which have come to light have pointed toward a connection.
They've also habitually avoided the use of the word "terrorism."
A reporter asked outgoing national police chief Gen. Somyot Pumpanmuang today whether police are ready to confirm the Erawan Shrine bombing was an act of terrorism.
Somyot demurred, saying investigators would first have to determine if the attack "matches all of the elements, as described by the law." Were that to happen, officers would also charge them with terrorism, he said.
Under Thai law, terrorism is defined as an act of violence "committed with the intention to threaten, or to compel the Thai Government, a foreign government, or an international organisation to do or abstain from doing any act which will cause serious damage or to cause disorder by creating widespread fear among the public."
Related stories:
Turkey Responds to Alleged Bombing Links as 3rd Arrest Reported
Mounting Evidence Links Bombing to Turks, Uighurs
Tests to Confirm Whether Man is 'Bangkok Bomber'
Warrants Out for Thai Woman, Foreign Man
Police Search for More Suspects After Arrest
Floundering Bomb Investigation Deepens Doubts About Competency
No Longer Whole, a Family Buries its Dead and Waits for Answers
Bangkok Bomber May Have Fled Thailand: Police
Man Dropped Bag into Water Night Before Sathorn Pier Blast
Seen Often on Sathorn 10, Suspect Thought to Use Fake Turkish Passport
Leaked Police Report Tracks Lead Suspect Before, After Bombing
1M Baht Bounty for Bangkok Bomb Suspect
Bangkok Shrine Bombing: Those Who Died
Despite Lack of Evidence, Thai Media Points Blame at Uighurs
Tourists Narrowly Escape Second Bangkok Bombing in 24 Hours
Bangkok Shrine Bombing: Police Hunt Backpack Man
Tourists Among 19 Killed by Bomb at Bangkok's Erawan Shrine
To reach us about this article or another matter, please contact us by e-mail at: [email protected].